With our Amazon Ads connection, you can easily create dynamically sponsored product ad campaigns that target shopping queries or products, and occupy high-visibility placements on Amazon. This article will help you set up your Amazon Ads Sales Channel in Channable.
Do you want to interactively learn how to set up Amazon ads in Channable?
Create a Channacademy account in the Channable app using this
Help Center article
and start with the Amazon Ads course.
Amazon Ads Sales Channel configuration
After connecting with Amazon Ads in your Channable account, you can start setting up the sales channel to generate your campaigns and ads. 
An Amazon Ads is connected to one "Advertising Profile" which refers to one country or region of advertisement and which has its own performance statistics. In other words, one Amazon Ads channel is required per region or country you want to advertise in. You can request the creation of more "Advertising Profiles" for Amazon.
Step 1
Select the Amazon Ads connection you've just created.
Step 2
Select the Amazon account you want to advertise with, also known as the Amazon Advertising profile. Remember that each country has its own profile. Click the Amazon account drop-down and a popup will appears so that you can select the appropriate account.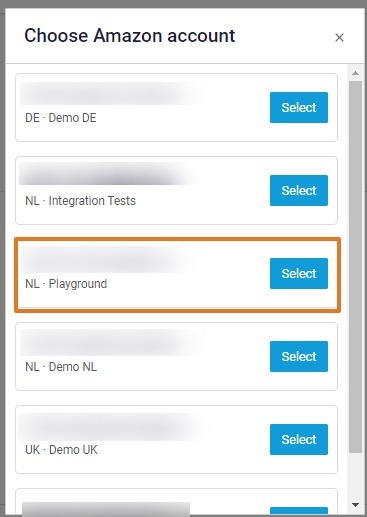 Step 3
Next, fill in all the remaining fields:
Name: Descriptive name for this ad channel. This is a label for the campaign generator in our tool. In case there is going to be more than one campaign generator, try to think of a name that would distinguish them from each other. This label can be changed later. A campaign generator name should be unique per Amazon ads channel.

Unique ID: This field is used to identify the products you will advertise.

If you use a Seller account, this should be the product identifier used when listing your products on Amazon Seller Central. If you use our Amazon API integration, you should use the same unique field.

If you use a Vendor account, this should be the ASIN of your products. If the ASIN is not available, you need to set up an Import with this field.
Important: The Amazon account field will be locked after this step. However, the Name and Unique ID can be changed later on if necessary.
Now that the sales channel is configured, you can start creating your campaign at step 2 on this page.