Are you unfamiliar with Channable, and want to learn interactively about the basics of Channable?
Learn how to create a Channacademy account in the Channable app through this
Help Center article
and start with the
Basic fundamentals course
.
Note II: This article assumes that you have set up your Channable account by adding your import and setting up your feed and API exports.
1) Setup your billing information
In the top right corner of your Channable account, click on your name. A drop-down menu will appear in which you can select Billing settings. Fill out your information and click on the button "Add payment method". After you have added the payment method, fill out the rest of the billing details and click on "Save".
2) Choose a Channable plan
To change the plan for your account, navigate to the top right corner of your screen and click on your name. A drop-down menu will appear with options to manage all aspects of your account, including changing your plan.
Click on Plans & pricing to access the settings where you can change your plan, by clicking on "Change".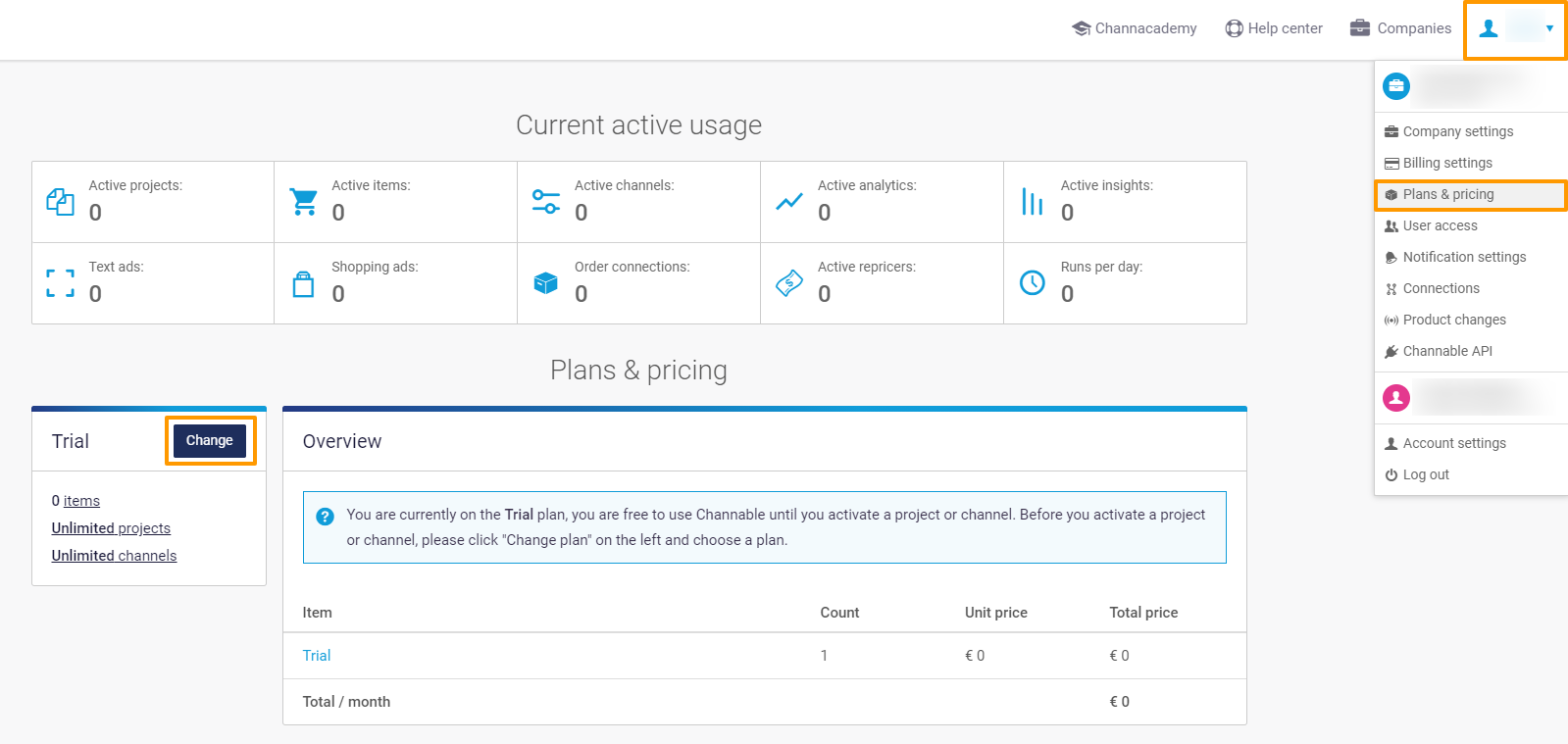 3) Activate your projects and exports
To activate a project, navigate to the Settings part of the project and go to Project settings. Here you will see the status of your project is active or inactive. If your project is inactive, you can activate it by clicking on "Activate project". For your feeds and APIs, navigate to the Settings tab of the feed or API and activate it by clicking on "Activate feed" or "Activate API".
| | |
| --- | --- |
| Activate a project | Activate a feed or API |
| | |
Payment method for Shopify users
If you are a Shopify user and you are selecting your payment method, you will only see one payment method called Shopify. The reason for this is that you are billed through Shopify and therefore you will need to approve the charges in your Shopify account. To do this, click on the "Save" button and you will be redirected to your Shopify account. Here you can approve the charges for your Channable plan. After accepting the charges you will be redirected back to Channable where you can activate your account.