Important information about cancelling your account
If you would like to cancel your account, follow the steps below before the billing date which falls on 20th of the month. Failure to do so will result in an invoice for the following month, with the subscription being cancelled at the end of the subsequent month. For more information, please refer to our Terms and Conditions.
It is important to note that Channable will only disable all account features. This means when using an API, your products will still remain on the marketplace. If you want to remove the products, as they are no longer being updated following deactivation, click on 'Clear API' in the API settings. This ensures that all products pushed through the API will be removed from the marketplace.
Where can I cancel my account?
You can find the cancellation of the subscription under '[Your company name] (top right dropdown menu) > Billing settings' in the tool. Here you can find the "Cancel plan" button. 
A pop-up notification will appear in which you need to confirm the cancellation: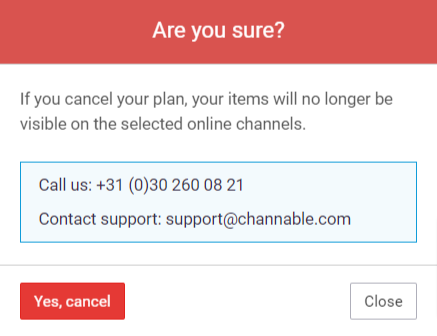 When the subscription is cancelled, all services and features will be automatically deactivated on the last day of the month. Moreover, the subscription will be automatically adjusted to 'trial'.

If this doesn't work, please send an email to our Support team that includes your company ID (this can be found by clicking on the name of the account in the top right of the tool) and the desired end date.
Do you want to cancel the cancellation?
You can see how many days are left before your subscription expires. To cancel the cancellation, click on 'Stop cancellation'. This stops the cancellation instantly, keeps the subscription active, and prevents feed and API deactivation.
Deleting account
If you want to delete your account, please contact us by email with your account name and company ID to support@channable.com.
Note: We can only delete accounts if the request comes from the owner of the account, not if it's an employee's or collaborator's request.