Note: this article assumes you already have an Google Ads connection in Channable. If you still need to create a connection with your Google Ads account you can take a look at this article.
Creating a new Shopping ad
To get started with your new shopping ad, click on the shopping ads tab on the left hand side menu.

Then click the "+ Add dynamic shopping ads generator" button. This opens a new screen in which you have to choose:
A name of for your shopping ad (this is not going to be the name of your shopping ad in Google Ads, it's just the name in the Channable interface).
The Google Ads connection to which you want to send your shopping ad.
A unique ID per product (choose the field that is connected to the ID field in your Google Shopping feed).
The Google Merchant ID in which your Google Shopping feed is imported.


Setting up the new shopping ad
Under the campaigns step you can give the Ad a name. This can only be set with a static value for all advertisements. This will add a new Google shopping campaign in Google Ads, do not delete this campaign as this will lead to issues. You can also choose your campaign country here.
Before you can create an ad we need access to your Google Ads account, please contact support to send an invite from our MCC account.

Under the "Ad groups" step of your new shopping ad you can set up the following elements of your shopping ad:
Ad group names
Default CPC
Up to 3 Product group subdivisions of product groups
Negative keywords
To illustrate how you could set up all these elements, we've chosen an example. We will show how it is set up in Channable as well as how it is displayed in Google Ads after Channable exports it to your Google Ads account.
Step 1: Ad groups Configuration
In the first tab of the "ad groups" step, the "Ad groups configuration" tab you can set up the first 2 elements of the list above. For the Adgroup name and CPC you can use static or dynamic fields.

This will create an ad with an ad group for every different brand that's in the product information. The ad groups will be called "Brand - [name of the brand]". This setup results in the following output in Google Ads: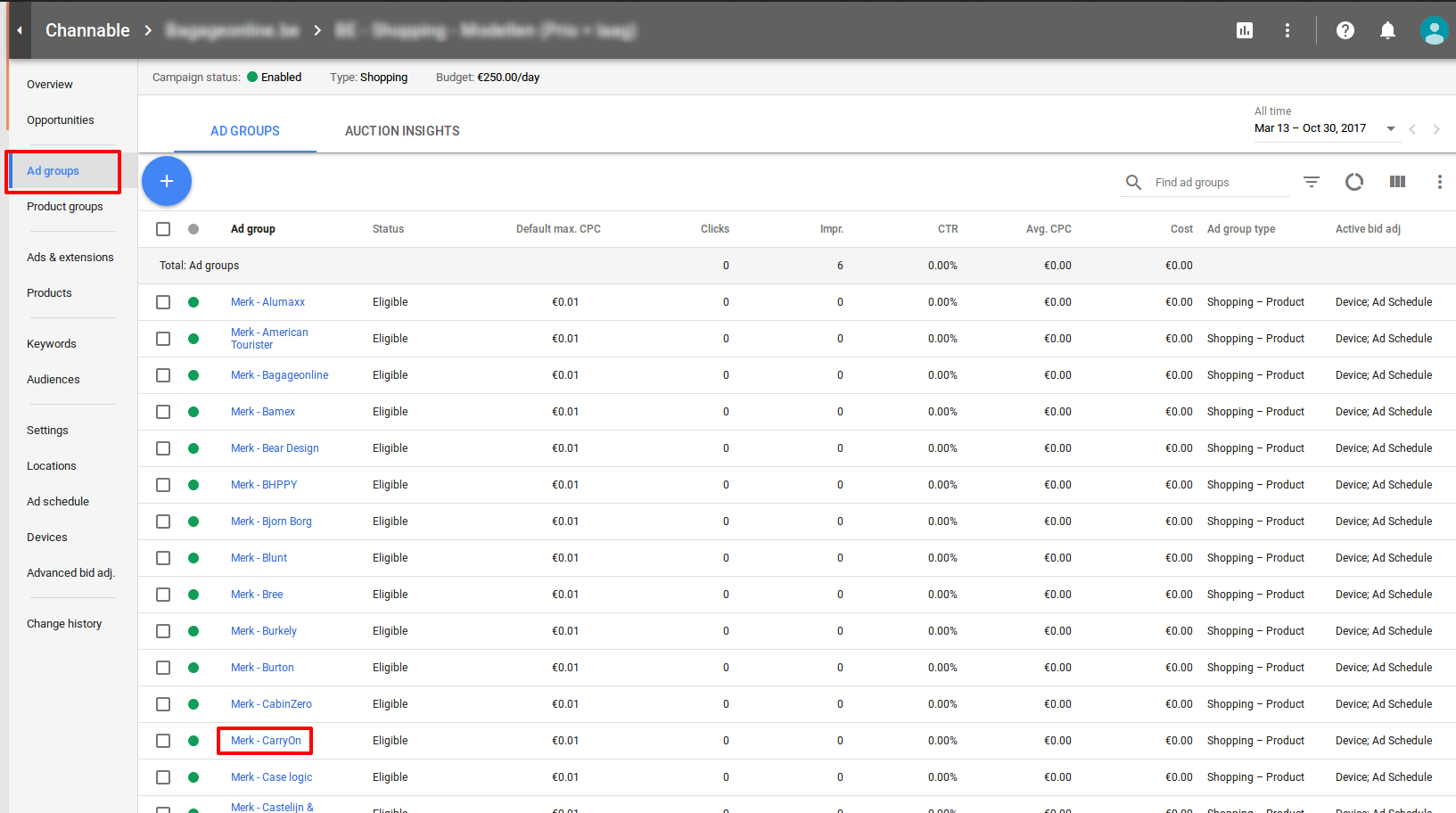 Step 2: Rules
In order for the Shopping ads to work as effectively as possible, copy the rules of your Google Shopping feed to the Shopping ad. After doing that, you can add extra rules for filtering out products.


Step 3: Product groups
In shopping ads you can add multiple levels of product groups. You can set up up to 3 levels of product groups under the "Product groups" tab. Product groups further divide your ad groups into subgroups. When adding a new level of product groups, you have to select a field from Channable and you have to select which field of your Google Shopping feed this resembles.
Note I: Only fields that have been sent through your Google Shopping feed can be used as a subdivision field.
Note II: The higher the level of the subdivisions, the more specific the field should be for the items. The field "ID" which is unique for every item, should therefore always be the highest subdivision if it is used.
In the example below, the first level of product division was created based on "Brand" and the second level was created based on "Custom label 1".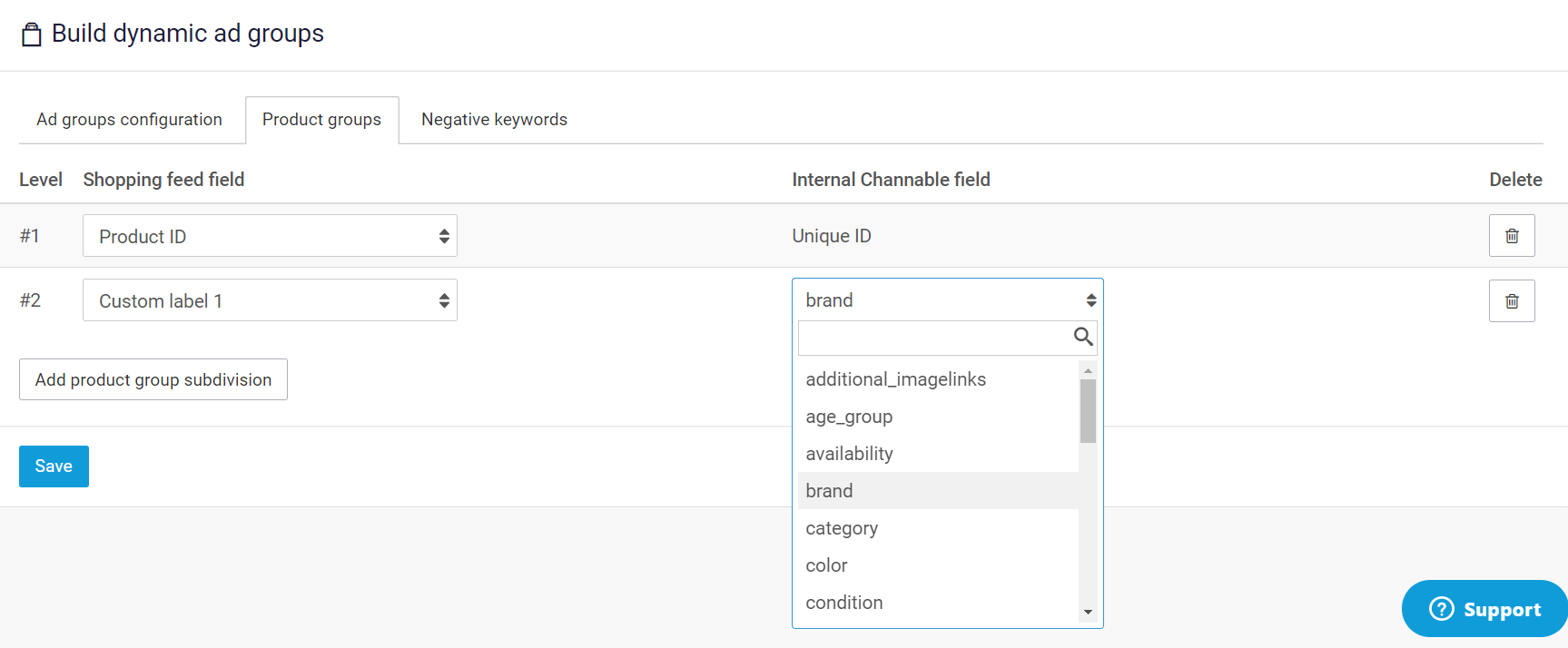 If we look at the "Merk - CarryOn" ad group within Google Ads, the above ad gives the following result: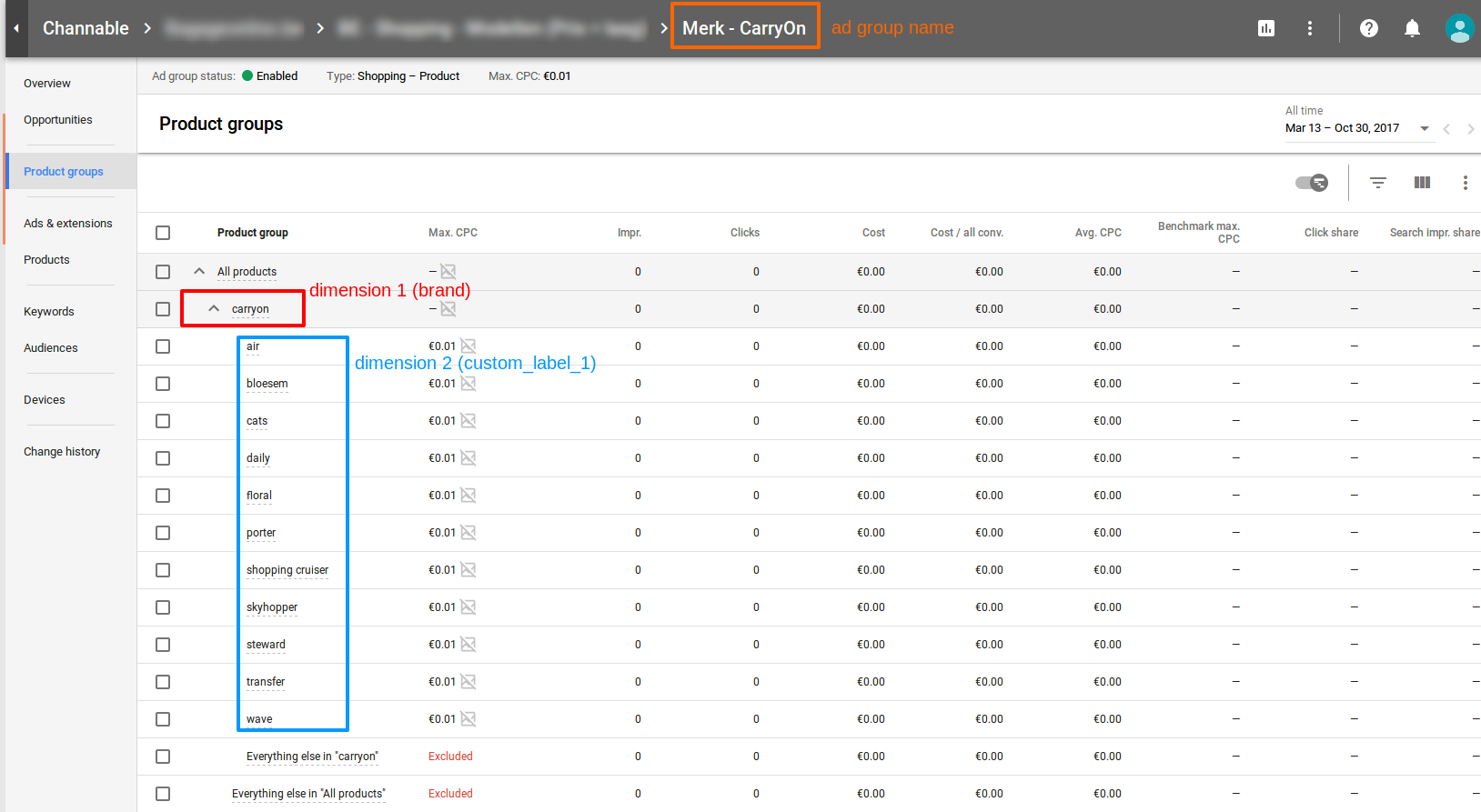 Because the brand field was used for the ad groups as well as the first dimension, you only have product group per ad group in dimension 1. Dimension 2 contains all the different values for "Custom Label 1" that exist within the CarryOn brand. If you click on one of the product groups in the screen above, you will get a list of all products from your Google Shopping feed that this product group includes.
You can now start adjusting your CPC bids in Google Ads on all product groups that you've created. The multiple subdivisions of product groups will give you a lot of control on how much you want to bid on all these specific groups of products!