You can manage your email notifications easily via the "Notification settings". You can find these settings under your name at the top right of your screen. These settings can be changed per user, only by the user itself.
At this point you can enable/disable notifications about:
Orders - you'll receive an email when failed to deliver an order from a Marketplace to your platform.
Errors - you'll receive an email when something goes wrong in your imports or exports in Channable.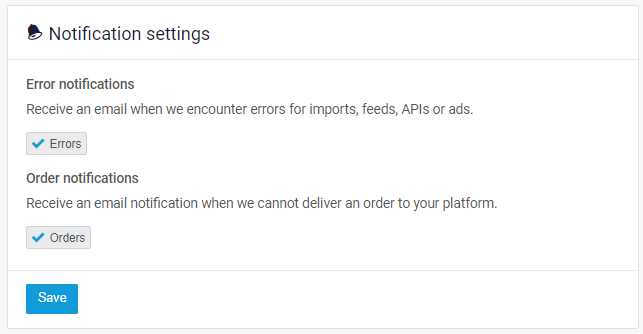 Failed order notifications
Every time an order fails, we send an email notification which tells you exactly which order was affected and what the error is. Note that at least 1 user has to enable order notifications. Otherwise, the "owner" of the company will receive the notifications by default.
Error notifications
We'll send an email whenever one of your imports or exports in Channable tried to run, but failed for some reason. We'll send you the error that occurred and a possible solution to that error. You can then try to solve the error by following the proposed solution. If you aren't able to solve it by following the solution you can always contact us to have a look with you.