User roles
When you register as a new user you are asked to create a company*. The email address you subscribed with will be the email address for the owner of the company. An owner is one of the roles a Channable user can have, we have 3 roles in total with different rights assigned to each role.
User Role
Company settings:
Contact details
Company settings:
Billing details

User access

Plans & Pricing

Owner

View & edit
View & edit
View & edit
View & edit

Employee

View & edit
View & edit
View
View & edit

Collaborator

View & edit
Limited view*
None
View & edit
*It is possible to see the invoice details, but it is not possible to see the payment profile.
Inviting others to access your company
The owner of a company can invite other people to access the company in Channable. This is useful if, for example, you want several people to manage your feeds in Channable. To invite others, the owner has to go to the "User access" menu item in the top-right corner.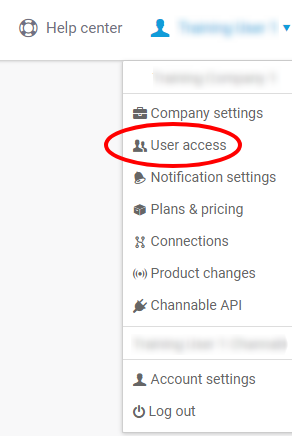 By clicking on the "User access" section, you will be directed to the users overview where you can see the users that currently have access and where you can also invite new users (if you have been assigned the owner role in Channable).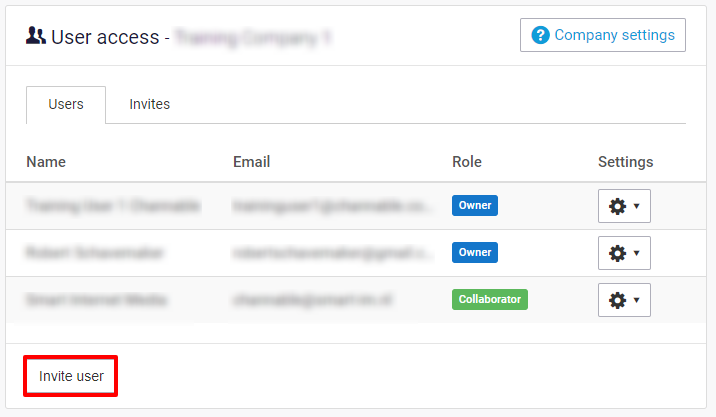 If you invite a new user, you have to specify a role for the user. The rights of these roles are described in the table at the top of this article. When you invite a new person to your company, this person will receive an email. If this person is not yet a user in Channable, they will first be asked to create a Channable account. From then on their new Channable account will be granted access to your company.
* For users that registered before April 2017 we have automatically created a company based on the company name entered for the account upon registration. The email address that was used when registering was assigned the user role "owner" of the company within Channable.