Combining data feeds can be useful in cases such as:
If you want to add new products which are not in your first import feed.
If you want to add information to your products such as EAN numbers.
Combining datafeeds is quite similar to importing a data feed.
After you have set up an import feed you can combine it with another import feed. Click on "+ Combine imports", choose your import type and specify the type of the import feed you want to add (ensure that the file is available online).
You will be taken to ''Setup Mapping'' which you have seen before in the setup of your first import feed. Again the fields in the left column (fields from your feed) will be mapped to fields in Channable. Normally you don't have to change these fields.
At the bottom of the page you can specify which fields you want to combine. This has to be a field present in both the first and second import feed. Usually you want to use ''Id'' or ''Title'' for this.
If you only want to add products which do not occur in both feeds this last step is not necessary.
Important information for combining feeds:
If you choose to map something to a field in Channable that was already filled by the first import feed it will be overridden. For example, if you want to combine multiple languages, make sure to rename all the translated fields so they are all unique. This way you ensure that your product contains multiple translated fields without overwriting the original field. Example field names:

NL: description_nl
EN: description_en
IT: description_it

Combining imports is case sensitive: if the value in the combine field is not exact same in both imports it will not be combined.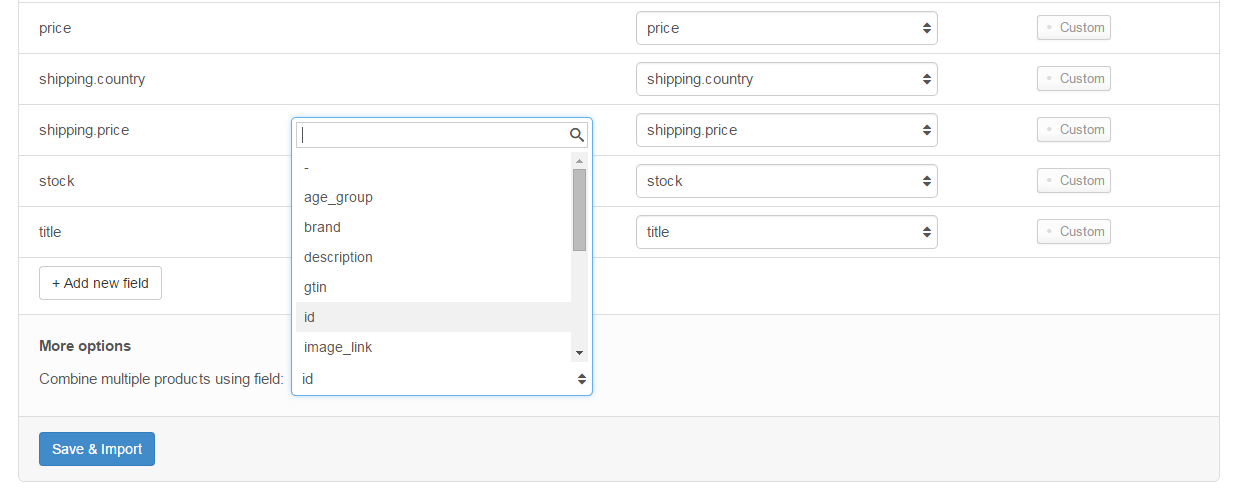 Hit "Save and Import" when you are done.