Are you unfamiliar with Channable, and want to learn interactively about the basics of Channable?
Learn how to create a Channacademy account in the Channable app through this
helpcenter article
and start with the
Basic fundamentals course
.
Note:
If you want to configure the
Schedule settings
, see
this article
for more information.
Where can I find the project settings?
Each project has its own Project settings page, which you can find by navigating to Settings > Project settings on the left side menu.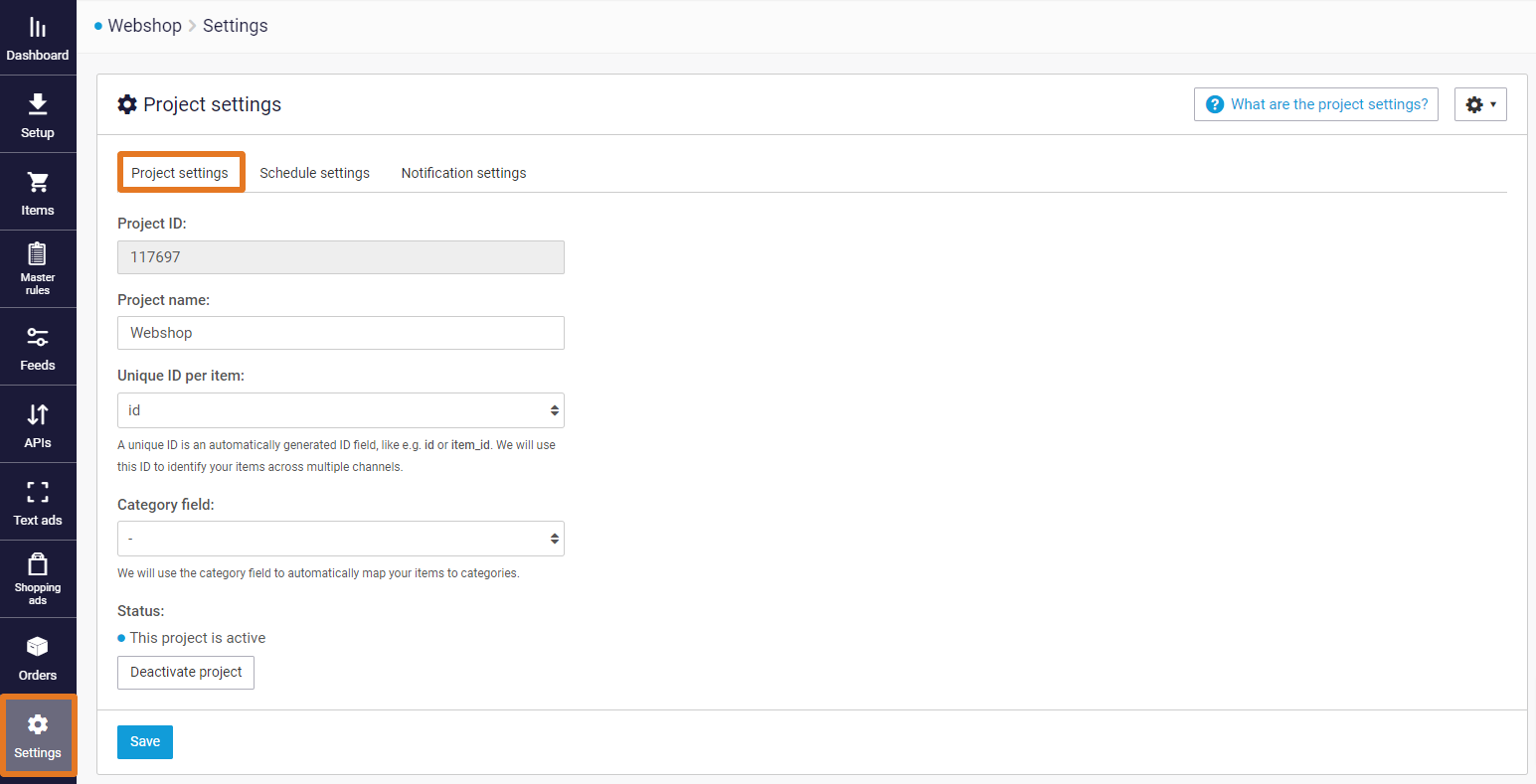 What can I change in the project settings?
Project name
This is the name of the project, which will be shown in the main screen. We recommend including the webshop and the language of the items in the name, e.g. "Example Shop EN".
Unique ID per item
Here you can select a field for which you want to do the import quality check. We recommend setting the field to something along the lines of "ID" or "item_ID".
Category field:
Here you can select a category field which will be used to automatically map your items to categories.
Status
This shows if the project is activated in Channable using one of two possible colors:
Yellow (Inactive / not live)
When a project is inactive, the import will not be updated automatically every day, and the exports will not run automatically every day. An inactive project and the number of imported items in that project are not counted for the pricing model.


Blue (Active / live)
When a project is live, the import will run daily at the time that is displayed. If you want to change the time, you can do so in the Schedule settings. After the import has run, the exports will start running, meaning that we update all product data every day. If you would like to update your data multiple times a day, please contact us for further information. As soon as the project is live, we will count this as a project in the pricing, and you can see the total number of imported items by going to Plans & pricing in the settings' menu.