Do you want to learn interactively all basics related to the creation of an API export, or how to make an advanced setup for an API in Channable?
Learn how to create a Channacademy account in the Channable app through this
helpcenter article
and start with the
Basic APIs
or
Expert APIs
course.
Requirements before getting started
Cdiscount is a French marketplace that lets you sell products based on a cost-per-sale (CPS) model. Take the following conditions into account when sending product listings to Cdiscount:
You need a Cdiscount seller account, which you can create here: https://seller.cdiscount.com/login?language=en-GB
You need valid EAN codes to send your products to Cdiscount.
Your product data needs to be available in French
If you already sold at Cdiscount without using Channable you have to use the same unique identifier (id) as id that you used before for all the products.
You are able to send the condition of your products (new, good condition, like new etc..) in the Attributes step by filling out the column "

Sous-état" with the accepted values.

Cdiscount doesn't allow you to delete product listings from your account. We can only disable ads by setting the stock to 0 (excluding a product in Channable automatically does this for you in Cdiscount)
How do I start sending to Cdiscount?
If you have an account at Cdiscount (see step 1 above) you will first need to create a new connection in Channable. To do this go to [your name top right corner] > Connections > Add connection. Click on "+ Add a new connection" and then select Cdiscount.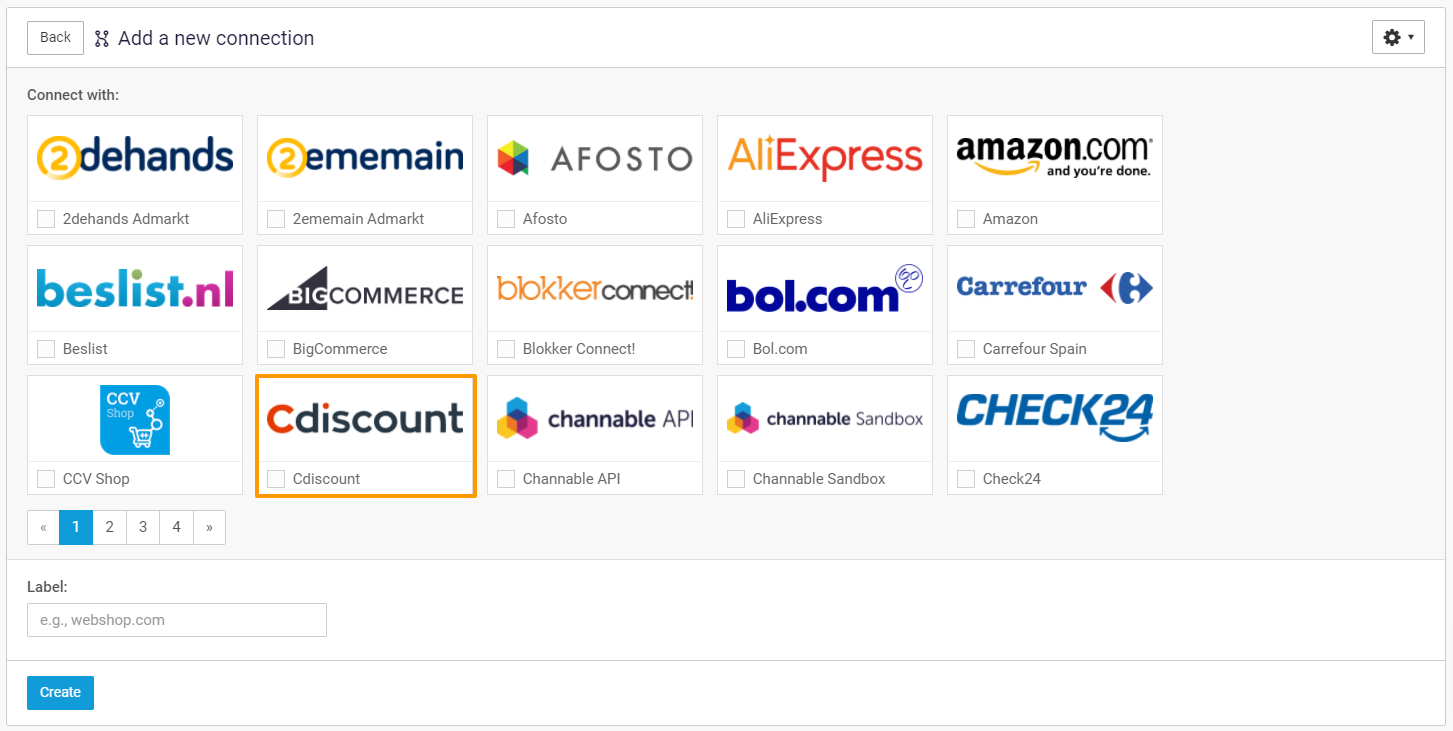 Note: When creating the connection you have to enter a Cdiscount username and password. Make sure you use the API username and password, not the username and password you login to Cdiscount with. You can find the API username and password in your Cdiscount account under Settings > Your personal settings and bank details > Connection Informations. If you go there, you'll find the API username and password as shown in the screenshot below: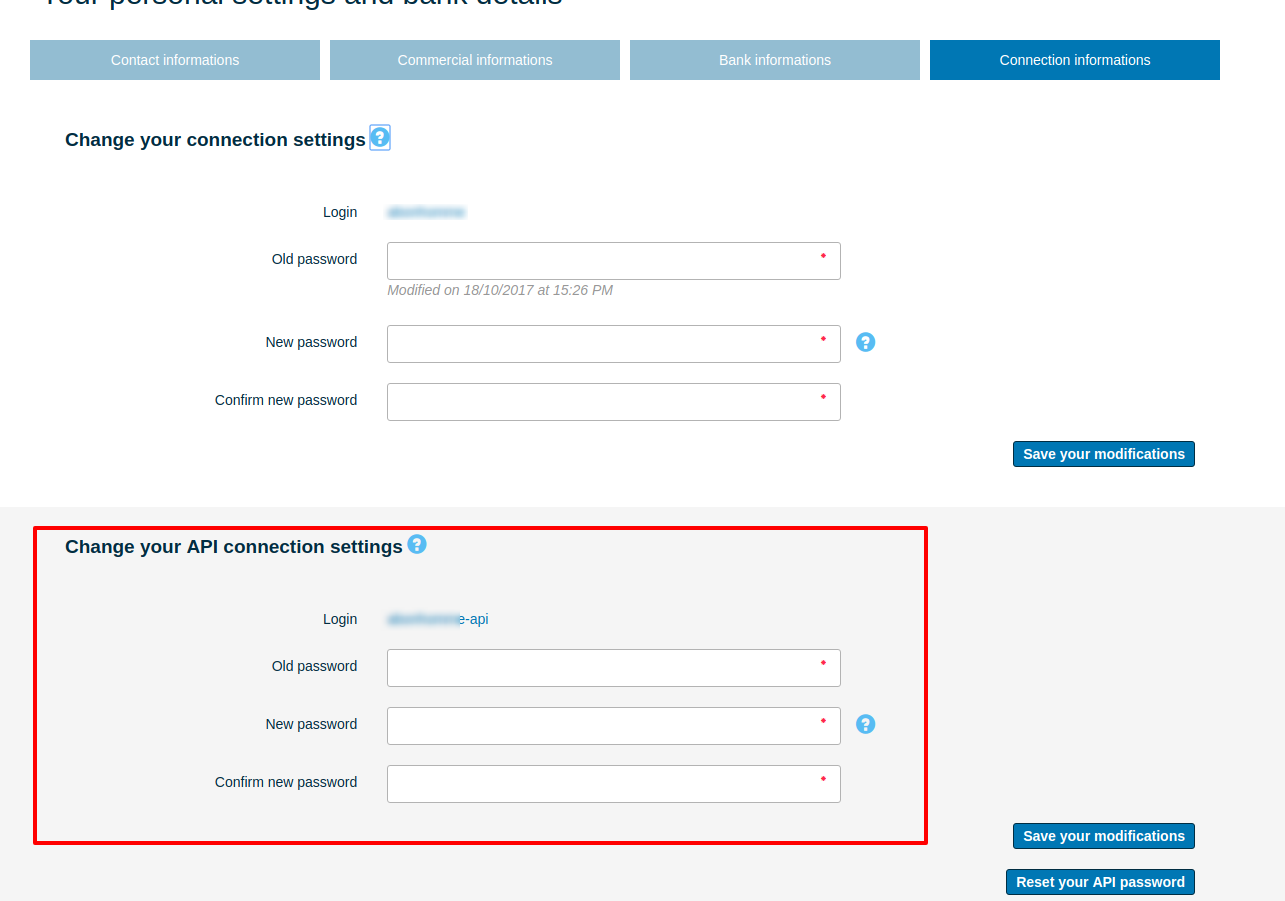 Copy the API username and password into the fields available in the connection. Fill in a name for the connection under "Label" (e.g. "yourshop - Cdiscount") and then select "create" to complete creating the connection.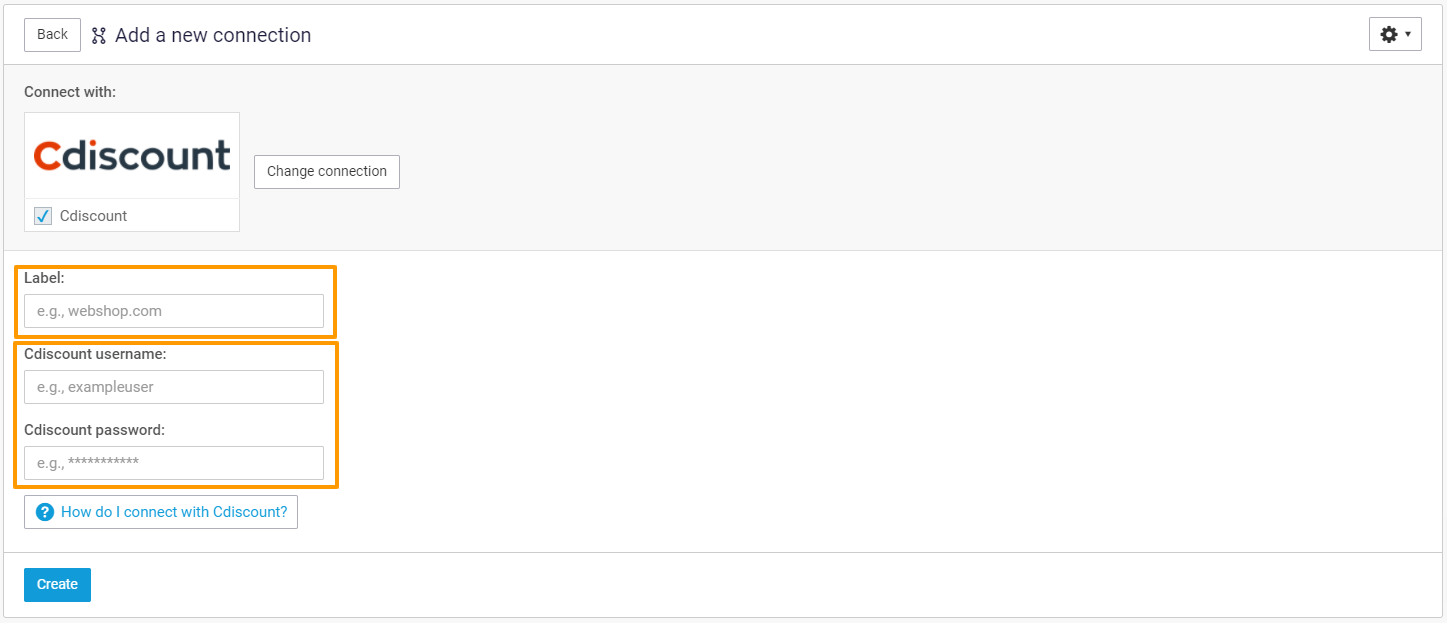 Next you can navigate to your project and go to APIs > Add new API. A new screen will open with the API Settings where you can click on the connection you have created for Cdiscount:
Select your new Cdiscount connection and choose a name for your API (e.g. Cdiscount")
Choose a Unique ID per item of which you know it is different for each product. If it's not unique, Cdiscount will not accept your products. Choose the ID field that's also the guaranteed unique ID in your own webshop (usually called "id")
Click Continue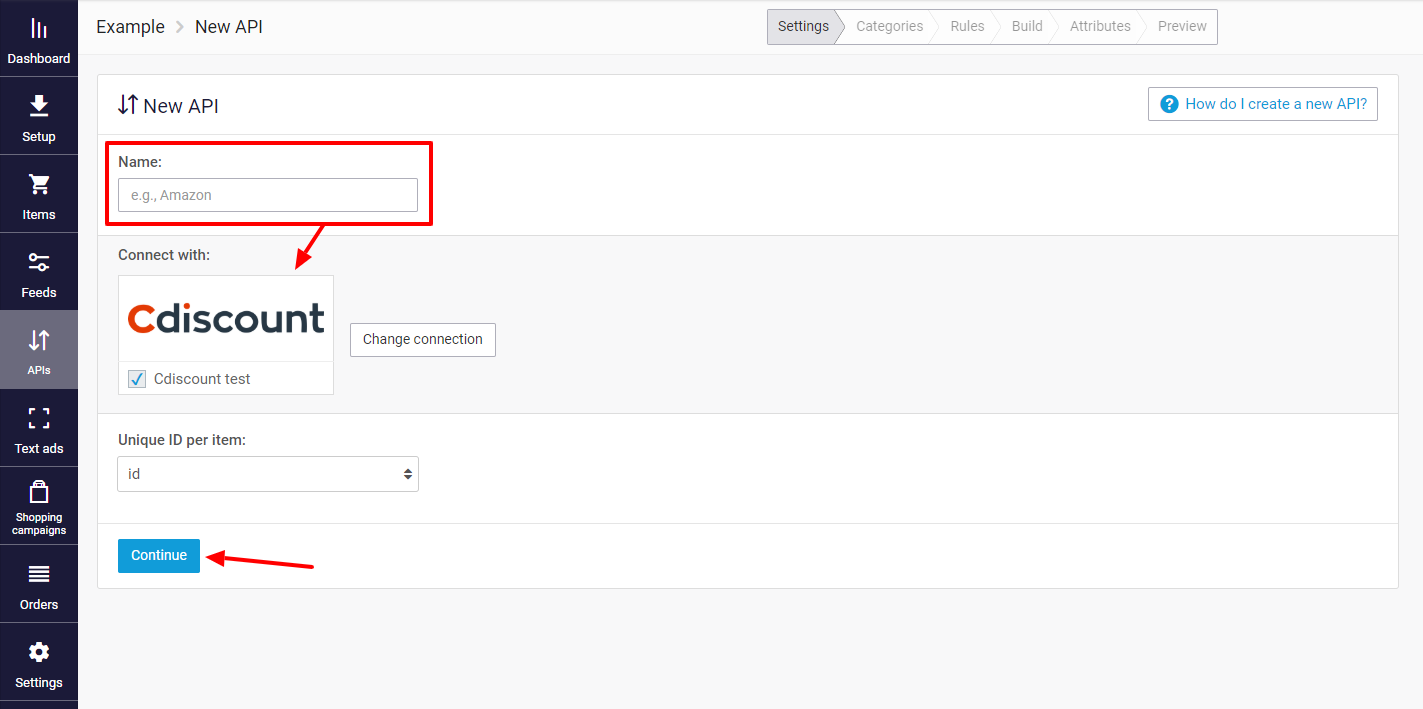 Start building the product listings!
Categories & Rules
Once you have created the marketplace, you'll be sent to the categories page. We advise to first try and send your products without doing the categories. If Cdiscount is already familiar with the EAN codes of your products, you will not need to do this step. You will know if Cdiscount doesn't recognize the EAN codes of your products after running your Cdiscount API, as in that case you will get the following erors in the preview step:
"1300 - Inexistant - Demandez la création dans la rubrique « Création produit »"

If you get the "1300" error later on, read our helpcenter guide on how to fix that.
For now, you can skip the categorization step and go straight to the rules to set your rules (e.g. excluding certain products). After the rules, go to build to start building your listings.

Build step
In the item tab of the build step, make sure you fill in all required fields. The screenshot below shows which fields are required. Some important notes:
The description should be max. 420 characters and can not contain HTML (hint: use the strip HTML from text rule)
Short label should contain a short version of your title (max. 30 characters)
Long label should contain your full title (max. 132 characters)
All these fields should be in French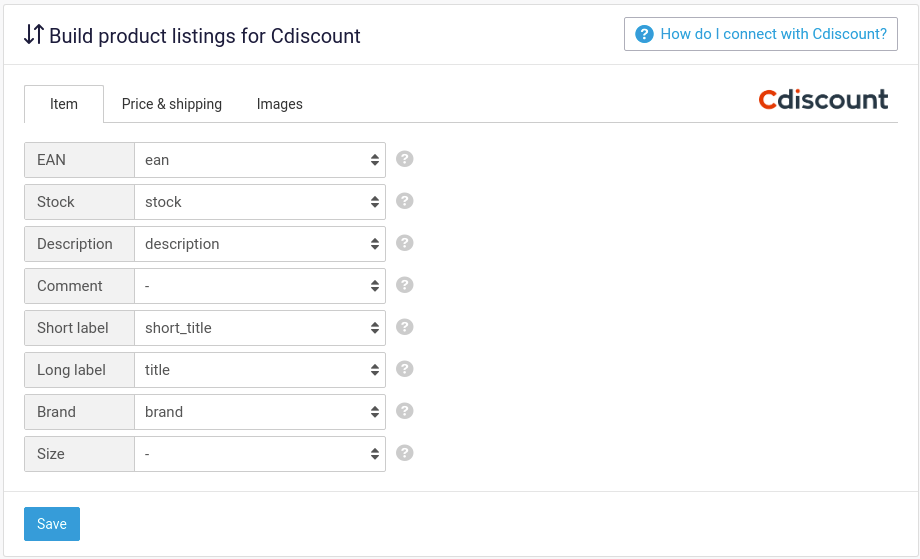 Next, in Build step of your API, go to the "Price & Shipping" tab. Here you can connect the price field and select the shipping methods that you offer and the shipping price for those shipping methods. If you want to know more about shipping options for Cdiscount, go this support page. If you're done with this tab of the Build step, it should look something like this: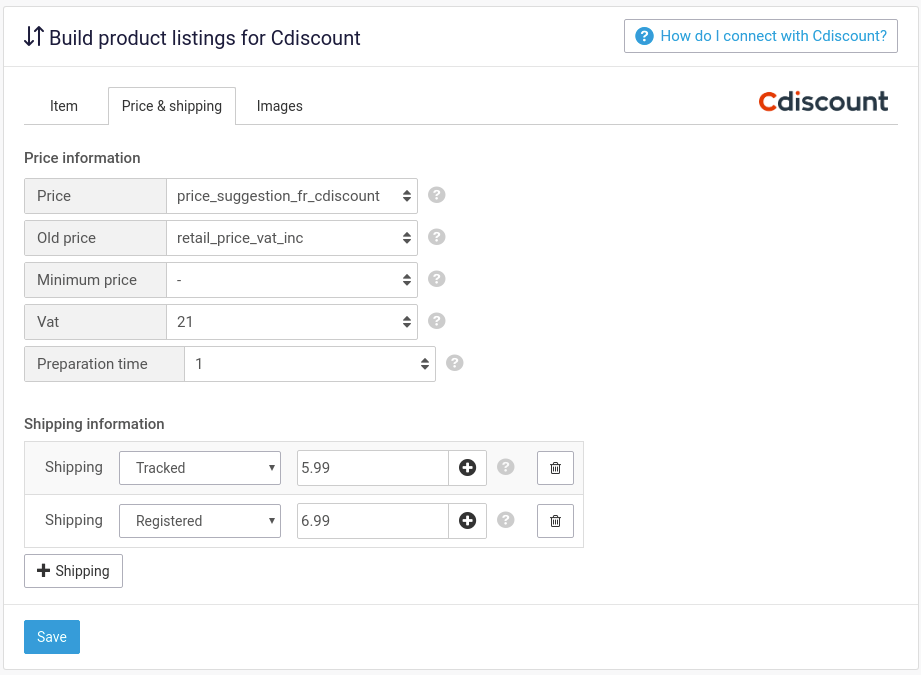 Check & Send
Next, go to the Preview step of your API to check the products that are about to be sent to Cdiscount. If that looks right, go to the Settings step of your API and activate the API: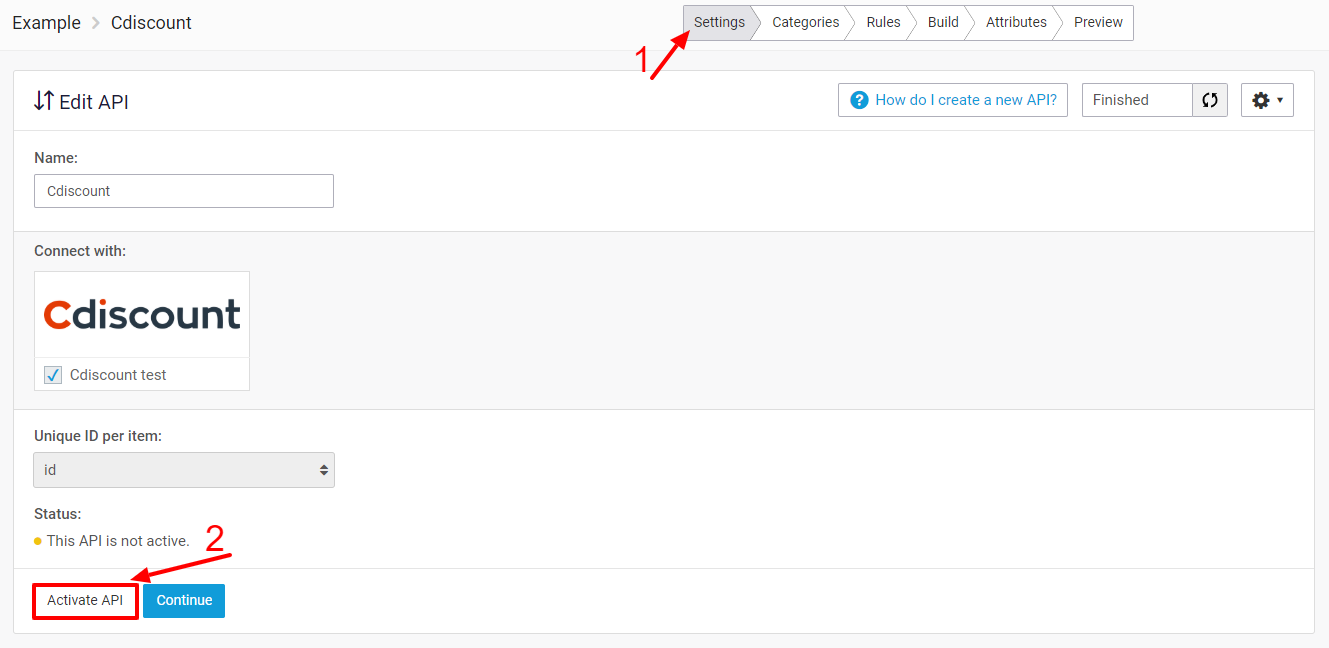 Finally, go to APIs and click "Run now" on your newly set Cdiscount marketplace to start sending the products!
Handling errors
In case you get the error with code 1300,- you will have to do slightly more work. In that case you can follow our guide on how to fix that.
In case of any other errors, usually the error messages explain what the problem is. Additionally Cdiscount has documentation about the different errors here: https://dev.cdiscount.com/marketplace/?page_id=1896
Finally, if you are checking the result of your product-sending-efforts in your Cdiscount account, make sure to follow the guide we have on that.