Note I: Barcodes (UPC/GTIN/EAN) are mandatory for Amazon. Make sure you have valid barcodes for all your products, otherwise your product listings cannot be created for your products. If you do not have barcodes for your products, please contact Amazon. In some cases they make exceptions, but they need to assess if you are eligible for this.
Note II:
In order to sell on Amazon through an API, you will need Amazon's 'Professional' seller plan. More information can be found on
this page
.
Step 1: Generate your API keys in Amazon
Channable can create a connection with your Amazon Europe Unified account (DE, FR, UK, ES, IT, NL, and SE) or Amazon North America Unified account (US, CA and MX). You do not yet need to create a connection with a specific country, only with the overreaching EU or NA account.
Navigate to the following Amazon login page. On the right click on "Sign up or manage Amazon MWS" and log into your seller account. You will be immediately redirected to the User Permissions page. Here, under Third party developer and apps click on the "Visit Manage Your Apps" button, this will redirected you to a new page.



In this screen you can authorize Channable as a developer by first clicking on the "Authorize new developer" button. You will be redirected to a new screen where you can fill in Channable's developer information depending on the Amazon account you want to connect with.
| | | |
| --- | --- | --- |
| | Developer's Name | Developer ID |
| Amazon Europe | Channable | 6553-1316-0844 |
| Amazon North America | Channable | 7448-9533-3156 |
| | |
| --- | --- |
| Authorize a new developer screen | Fill out developer information screen |
| | |
After filling out the developer info, you can click the "Next" button and you will see an overview of tokens.
Note: The Seller ID can now be found under Settings > Account info > Your Merchant Token (under the heading Business Information). If you click on it, you will see your Seller ID.
Save the Seller ID and the MWS Auth Token, you will need them later.


Step 2: Create a new Amazon API in Channable
Go to Channable, open your project and go to APIs > Add new API. A new screen will open with the API Settings where you can click on the "+ Add new connection" button.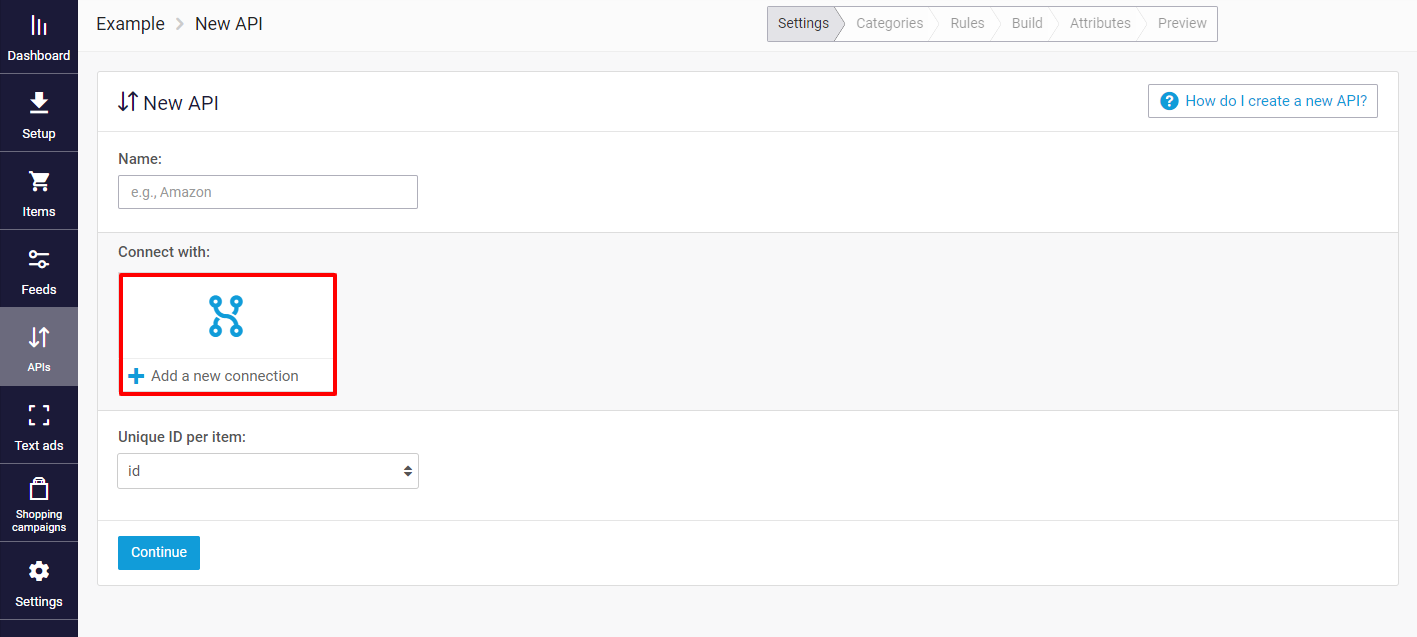 You will be forwarded to an overview in which you can select "Amazon" to create a new connection. Fill in a name for the connection under "Label", we recommend naming the connection Amazon EU or Amazon NA depending on which overreaching account you are creating a connection with. Fill in the "Seller ID" and "MWS Authorization Token" with the tokens you copied in the previous step, and click the "Create" button to save your connection.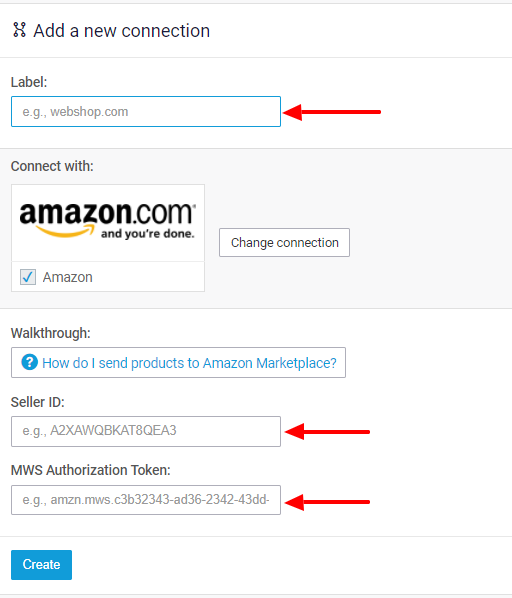 You will the be redirected back to the API Settings step where you can choose a country you want to create your product listings for. After choosing a country click on the "Continue" button to create your new Amazon API.
Step 3: Create your product listings in Channable
Actually creating your product listings is very simple and fast. You can create your product listings by following the four steps shown below in the Amazon API.
1. Categories
Setup Amazon categories for your products by using the generate categories feature or create new categories from scratch.
2. Rules
Create different rules to optimize your productdata. For examples take a look at our common rules support article.
3. Build
Here you can find our preset template for the product listings. All you have to do is to fill it out by clicking on the field itself and selecting what you would like to go in there. For example, the field 'Title' should display the title of your product and so on. If you want to setup shipping templates, see this help center article. Remember that if you want to sell products on FBA (Fulfilled By Amazon), you will have to fill in the "Fulfillment Center" field, that would otherwise be empty for products you fulfill yourself.

Tip! Notice the question mark behind every field, if you hover over the question mark you will see the description of the field and suggestions for possible values.

When you have finished setting up the product listings, just click 'save' on the bottom of the screen.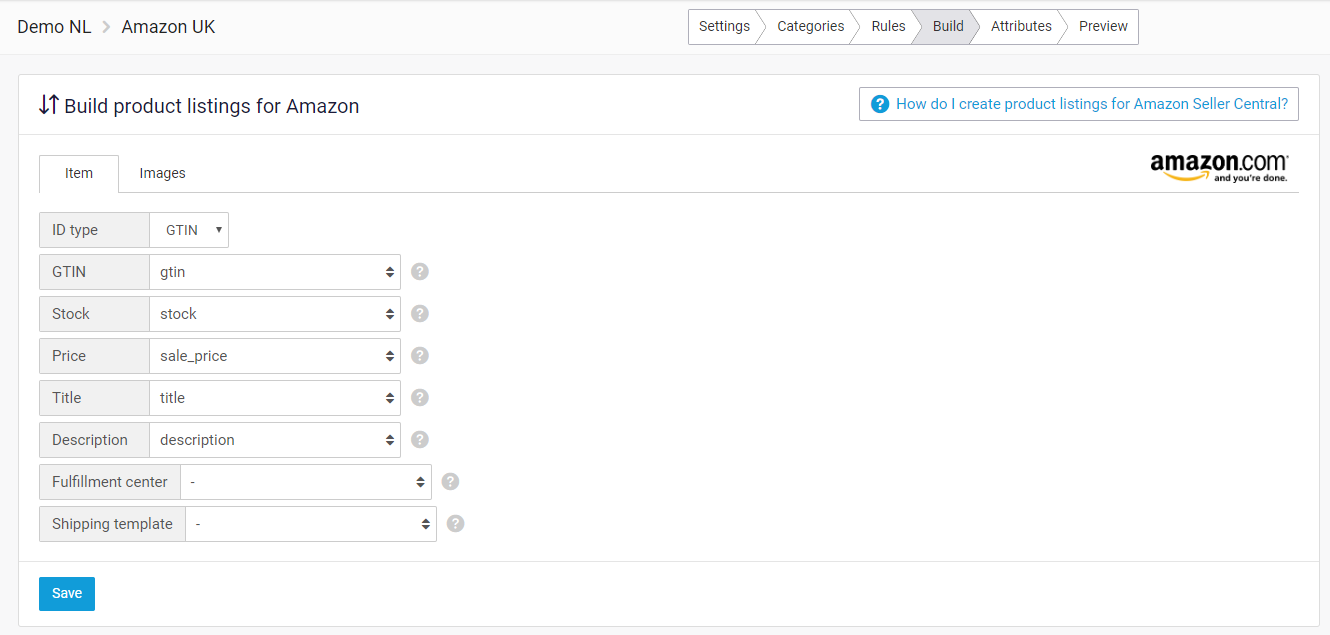 4. Attributes
Almost done! Next up is filling in the fields in the Attributes step. Select the category you want to optimize first. An example of what should be in front of you now can be seen in the screenshot below. A more detailed explanation of what to do in the Attributes step can be found in our Attributes support article.



Step 4: Remove the old product listings from your Amazon account
To prevent synchronization errors it is important that there are no old product listings in your account when you activate the Amazon API in Channable. To delete the old product listings navigate to Inventory > Manage Inventory. Here you can select all listings and delete them by clicking on Action on selected > Delete products and listings. Repeat this action until your inventory is empty.
Tip! You want to keep your product reviews? If you are the only vendor in Amazon for a product, select the option "close inventory" instead of "delete product and listing". This way the reviews will be kept when we push the new listing through Channable. Product reviews are linked to the EANs of your products, so make sure to publish the products again with the same EAN.
Step 5: Send your product listings to Amazon
Almost there, your product listings are ready to be sent! Next, go to the Preview step of your API to check the products that are about to be sent to your Amazon account. If that looks right, go to the Settings step of your API and activate the API.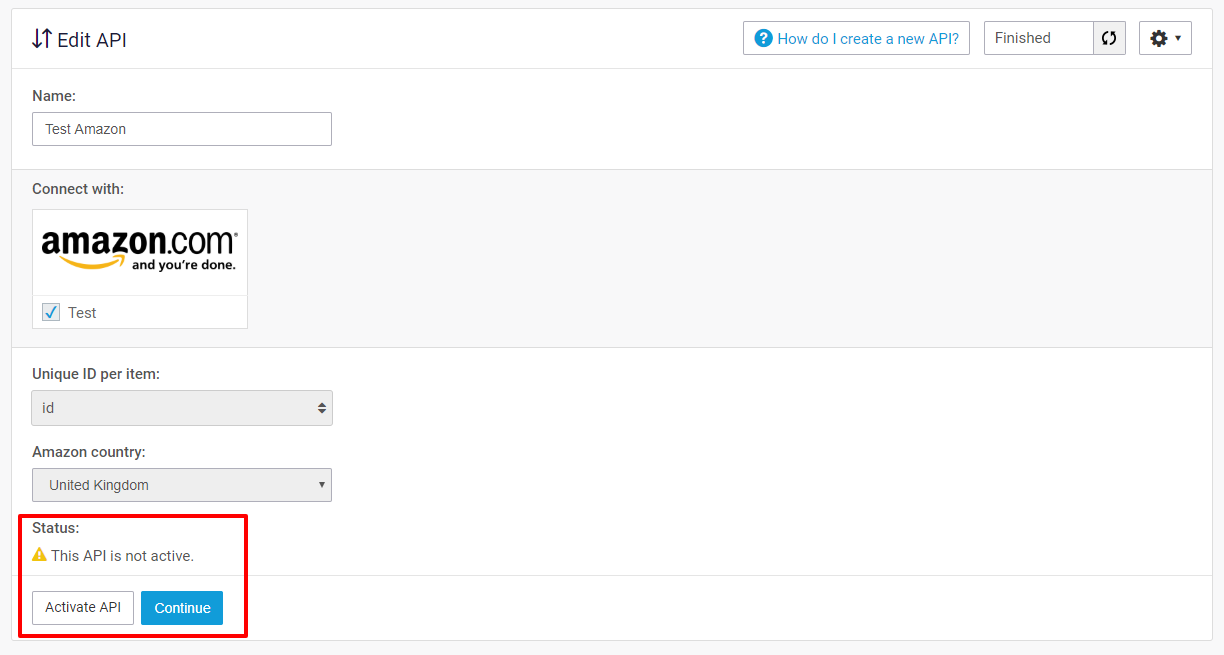 Finally, go to APIs and click "Run now" on your newly set Amazon API to start sending the product listings!


Step 6: Check your product listings for errors
If you have sent you product listings to Amazon go to the Preview tab of your Amazon. Click filter on 'error'. Now you can see which product listings have errors and are not placed. If you click on an error it will show you more information and what is causing the error. You can also check out our error solutions section on how to correct errors.