General information about the CSV
You can now download orders and order returns as CSV. The CSV will contain all the orders that have been picked up by the order connections that have been setup in your Channable project. For each project in your Channable account you can download a separate CSV.
Note I: After 90 days the orderdata is anonymized and instead of information you will see a # sign in the CSV.
Note II: When a customer orders multiple products, each product will appear in a separate row in the CSV.
In Channable
Setting up the order connection
If you use an eCommerce platform such as Lightspeed, Magento, WooCommerce, Prestashop, Shopify or Divide, you will not need to perform any extra steps if the order connection is already setup. If the order connection has net yet been setup but you would like to use it, please contact us.
If you use Mijnwebwinkel or a custom eCommerce platform you will need to build a connection with the Channable API in order to download the orders as CSV. You can find more information about connecting with the Channable API in our support article.
You can check if an order connection has been setup by navigating to Setup > Setup Orders in your Channable project. If you see an active connection like the one in the screenshot below, you will be able to download your orders as CSV.

Downloading the CSV
In your Channable project, navigate to Orders > Processed orders. In this overview you can click on the "Download as CSV" button to download your orders and order returns. You can also change the time span for which you want to download your data. As a default the orders of the last month are shown and download.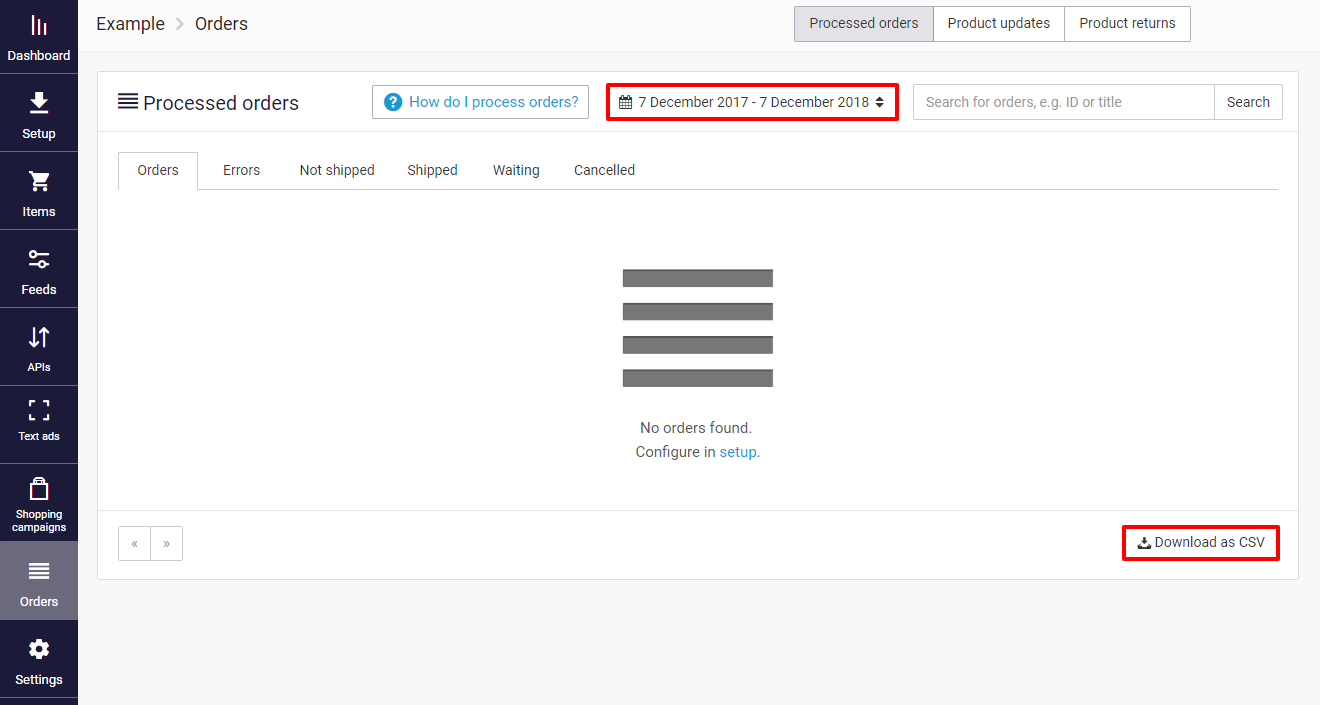 Opening the CSV in Excel
The easiest way to correctly open the CSV file in Excel is by importing it as data. You can find how to import data from TXT/CSV files in this Microsoft help center article. In this article, navigate to "Import a text file by connecting to it" and select the Office version you are using. Follow the steps in the article to open the CSV file.