Rules are the foundation of Channable. Rules can fill fields, modify fields, split items, remove items and much more. See this page for example rules.
1) Creating rules
This assumes you are in the "Rules" tab of a channel or connection. To create a rule: click on "Create new".
Choose a meaningful name;
Click create.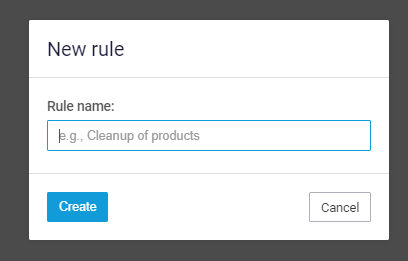 You now have an empty rule which does nothing, yet. Here you can find a couple of example rules.
2) Order of the rules
The order in which the rules appear matters, because Channable will execute the rules in your rules list one after another, from top to bottom. This means that if you exclude items in the first rule, that those items will not appear anymore in the rules below. Also, if you change the title of a item in the first rule, you will not find that item under its original title anymore in the second rule. After each rule, your item information changes a bit. Therefore, it's a good idea to use a check rule to see how your items turn out after all those changes.
3) Copy rules
You can also copy an existing rule from anywhere within your account:
Click on ''Copy'';
Choose the company to copy the rules from, choose the project and the Channel or API;
Choose the rule name, you can also choose to copy all rules of the selected Channel/API.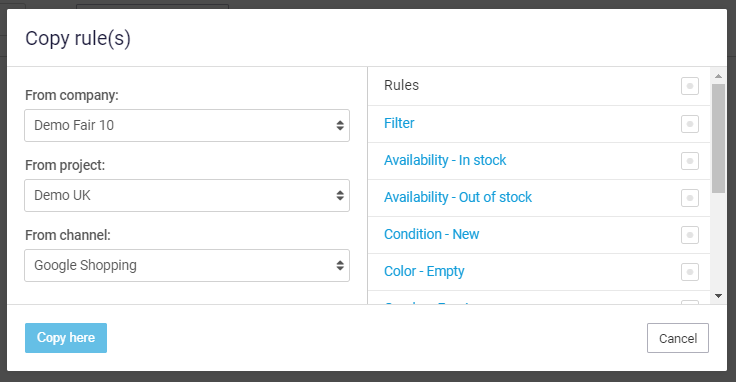 Copying rules is particularly useful when you are setting up a new export channel and want to (partially) re-use your rules from an existing channel.
Do you want to know more about using the rules in Channable in the best and fastest way possible? Our online training platform, the Channacademy, gives you some tips and tricks and shows you various examples of rules that allow you to optimize your import data. Create your own Channacademy account in the Channable app. Using the other lessons, you can also start learning how to get your items into Channable and send them to an export channel of your choice!