Are you unfamiliar with Channable, and want to learn interactively about the basics of Channable?
Learn how to create a Channacademy account in the Channable app through this
Help Center article
and start with the
Basic fundamentals course
.
You can set up multi-factor authentication (MFA) to secure your Channable account.
If you want to enable this feature, you have to follow those steps:
1. Open the tool & log in
Go to https://app.channable.com and log in. Then, hover over your name in the top right corner of the screen and click on "Account settings":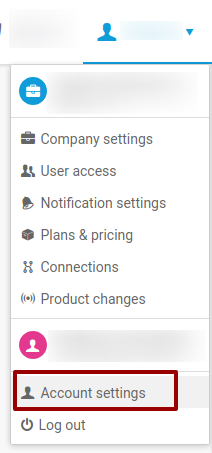 2. Enable the Multi-factor authentication
In the "Multi-factor authentication" tab, enter your password and click "Enable"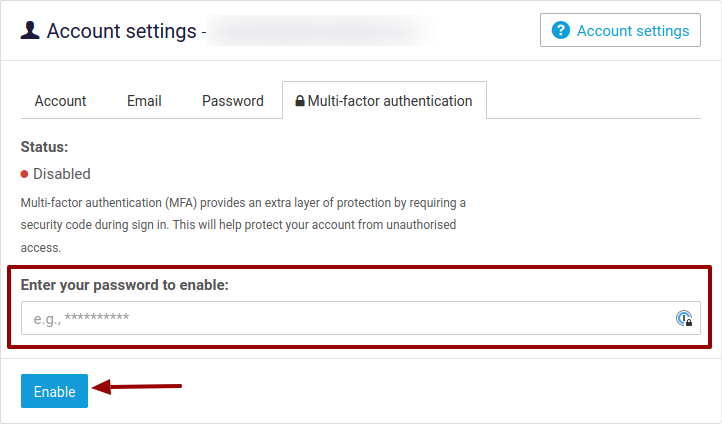 3. Set up Multi-factor authentication
Follow the steps to set up the Multi-factor authentication: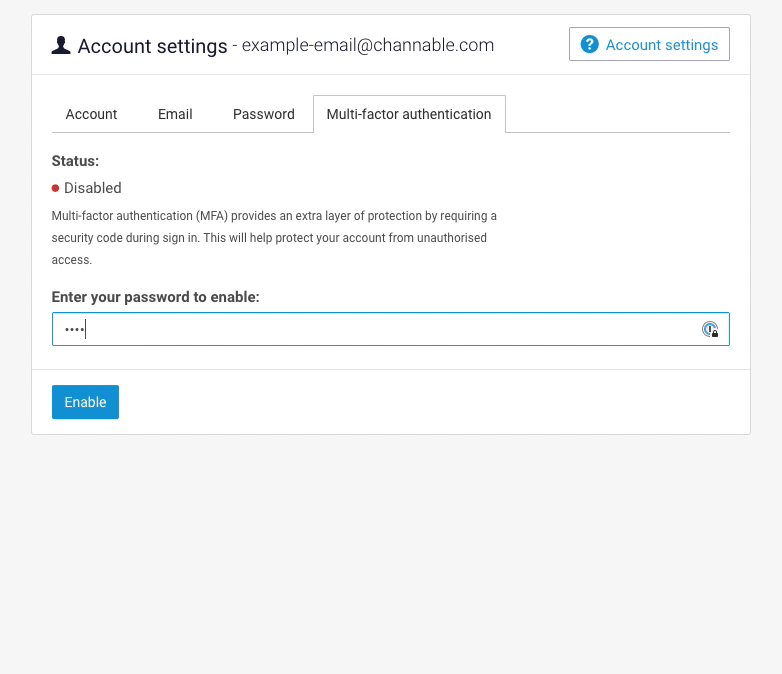 Enter the code and click "Complete", you will then get a list of "recovery codes". Save those codes somewhere safe, send them to yourself by e-mail or print them as you might need them if you lose your phone.
Once this is done, click"Close" and you should see the previous screen again, but now with the Status "Enabled".
4. Test your login
Log out of the tool by hovering over your name and clicking "Log out" in the menu.
Click the "keep me signed in" button if you don't want to be asked for a your username, password and a code every day and log in again.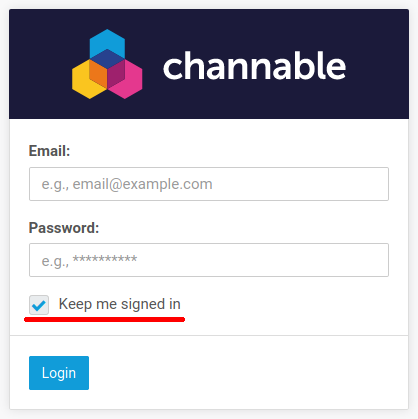 Enabling this button before logging in will cause the tool to "remember" your device, and you'll only need to log in once every 30 days. You should be asked for a code after submitting your password: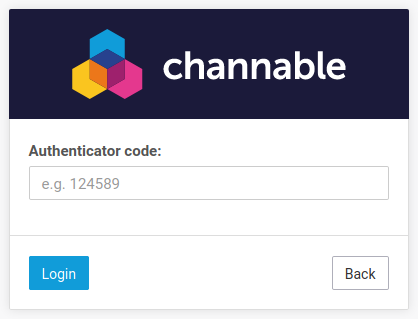 Enter the code from the authenticator app now (it should be a different one, otherwise you'll have to wait a bit until it's changed), and click "Login".
Note: You will now need to use your phone each time you log in to the app. If you use the "Keep me signed in" option this will be once every 30 days, if you don't use this option this will be every time you open your browser.
If you get a new phone, disable the MFA with the old one and enable it again with your new phone.
If you lose your phone or it is stolen, please contact us as soon as possible

Q&A
I am trying to activate MFA, but the authenticator codes are not accepted. What should I do?
This could be caused by an incorrect time on your phone. MFA codes are linked to the current time and are valid for slightly more than 30 seconds. If the time on the generating device is too far off the generated codes will not be valid. The validation codes you are entering in Step 3 will then not work, and you cannot activate MFA.
Please try the following to solve this:
Delete any code generators for Channable from Google Authenticator by long-tapping them and then pressing the delete button;
Verify that the time on the phone used to generate codes is correct and have Google Authenticator correct its internal clock using

these instructions;
Retry adding MFA to your account via the app, taking care to click the blue button in the bottom-left of the popup and not click the "close" button in the bottom-right of the popup.