Do you want to interactively learn all basics related to the creation of an API export in Channable?
Learn how to create a Channacademy account in the Channable app through this
Help Center article
and start with the
Basic APIs course
.
Some API connections expire within a certain period of time. This can occur for the following connections:
Amazon

eBay

Marktplaats

Bol.com

Wish

Afosto

Microsoft Ads

Google Analytics

Google Shopping

2dehands.be/2ememain

AliExpress.
If you don't refresh the connection in time, your API will show a "Failed" status. If you have enabled error notifications in your Channable account, you will receive an email notification about this. If your API fails due to an expired token, you can follow the steps below to refresh your API connection.
IMPORTANT: Log in with the same seller account used when creating the initial connection. We recommend you refresh the connection using the incognito mode of your browser. By using the incognito mode of your browser, you will always be asked to log in to your seller account, which may differ by country. This prevents a possible scenario in which your browser logs into the wrong seller account when refreshing your connection.
How do I refresh my existing connection(s)?
When an API fails due to an expired token, you need to go to API's and click on 'settings'. Here you can find the connection of the API. You can now click on the image of the connection. You will find the option to 'refresh the connection' in the lower right corner.
Another way to get here is to click on 'connections' under your company name in the top right corner. Find the correct connection that is used for the API and click on 'edit'. Now you will get to the same screen where you can click on 'refresh connection' in the lower right corner.

Next a pop-up appears asking if you are sure you want to refresh this connection.

Note: If you don't complete this process you could end up with a broken connection.

Click on 'refresh connection' if you want to continue the process. You will be redirected to the marketplace environment where you can login, or confirm access if you are already logged in.

Confirm and then you will redirected back to Channable where you have to click on "refresh connection" for the last time.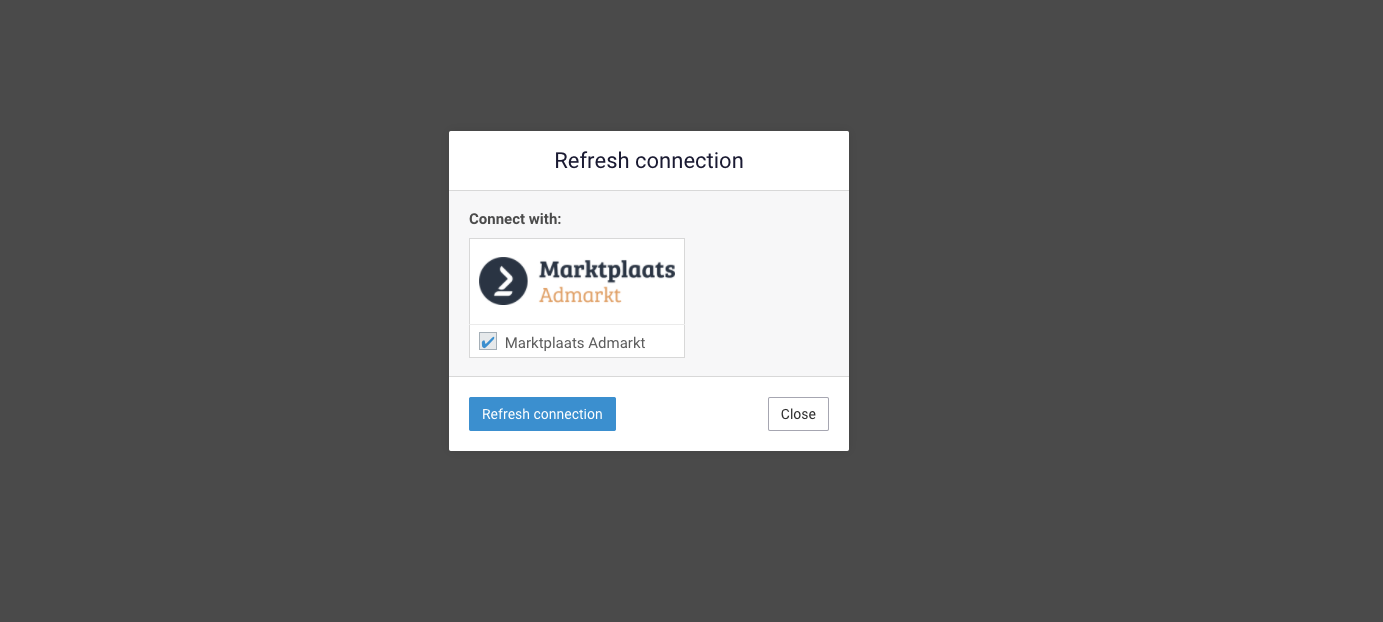 Congratulations! Your connection has been refreshed.