Do you want to become a Channable expert and get certified?
In our Channacademy, you can follow multiple courses and learn all about the Channable tool. F
inish the quiz successfully and receive the official Channable certification!
Learn how to create a Channacademy account in the Channable app through this
Help Center article.
Note:
You will receive the referrer code as soon as you have signed our partner agreement. If you are interested in becoming a Channable partner, please contact your designated Customer Success Manager/Representative or support.
What is a Referrer code?
You will receive a referrer code at the moment you sign our partner agreement and you are recognized by us as a partner. This referrer code can then be attached to accounts that you have submitted within Channable and/or customers that you proactively manage in Channable. This way we can exactly see how many customers you manage as a Partner and identify your Partner Level. We have four types of partners: Community, Bronze, Silver and Gold.

How is my Partner Level determined?
There are two situations for which you can use the referrer code:
You have referred a customer and actively helped onboarding this customer in using Channable.





In this scenario the customer's subscription will count for the total value on which we determine the kick-back. If you have referred a minimum of 5 customers you are entitled to the kick-back fee of 15% per subscription.




If you have reached this minimum requirement you will be recognized as a Community Partner, but if you want to grow to Bronze, Silver or Gold Partner you will have to actively manage the clients otherwise you will remain Community Partner.




You are managing a customer in Channable.



In this scenario we count the total subscription value of managed clients on which we determine the level of Partnership Bronze, Silver or Gold. So in case you have actively referred and onboarded a customer AND you are managing this customer you will benefit from both the kick-back as well as the Partnership.
How do I add my referrer code?
It's important to know that you enter your referrer code in a different place depending on whether you have submitted the account or whether the account is now proactively managed by you.
If you refer a new customer (so submit the account), the referrer code needs to be added when creating the new account: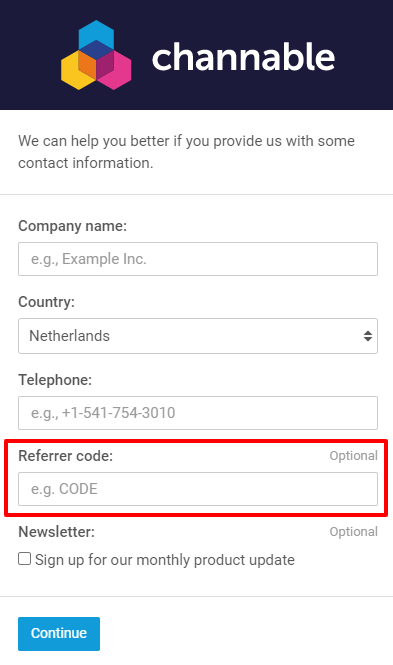 It can also be the case that you start proactively managing an existing account. You can add the referrer code to an existing account by navigating to company settings in the top right corner of the tool. Here you will find a tab 'Agency details' where you can enter the referral code: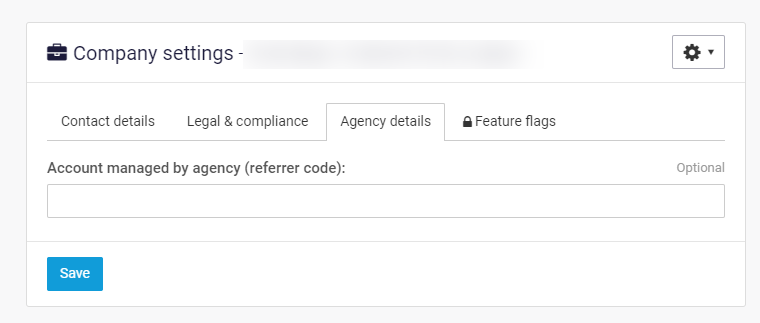 Note I: it's possible that an agency has referred a customer but no longer manages the customer. Another agency can step in to manage the customer's account. In that case a customer could have two different referrer codes from two different agencies: one for the referral agency, and one for the managing agency.
If you are a partner of Channable, you have this referrer code. When you don't remember the referrer code, please contact your Customer Success Manager or Representative.
Note II: Only link this code if you proactively manage the account!