Google's Shopping Ads, or Shopping campaigns, are a way to promote your catalog online. Shopping Ads provides you with a way of structuring your product ads in different campaigns, ad groups and product groups which helps you manage their CPC and targeting. With Channable's Shopping Ads functionality you can manage the campaign, ad group and product group structure for your Shopping Ads.
Shopping Ads are different in appearance from Text Ads. Shopping Ads show an image, price, title, shop name and more information in the ad, whereas Text Ads display text only. To show all this information, Google uses the product data you send to Merchant Center (through a Google Shopping feed or Google Shopping API in Channable) and manages the Shopping Ads from Google Ads.
The ads created by Shopping Ads appear in the Google Shopping tab, and in the Google Search results above or next to the Text Ads. In the image below, the ads in the orange square are created by Shopping Ads, and the ads in the green square are Text Ads.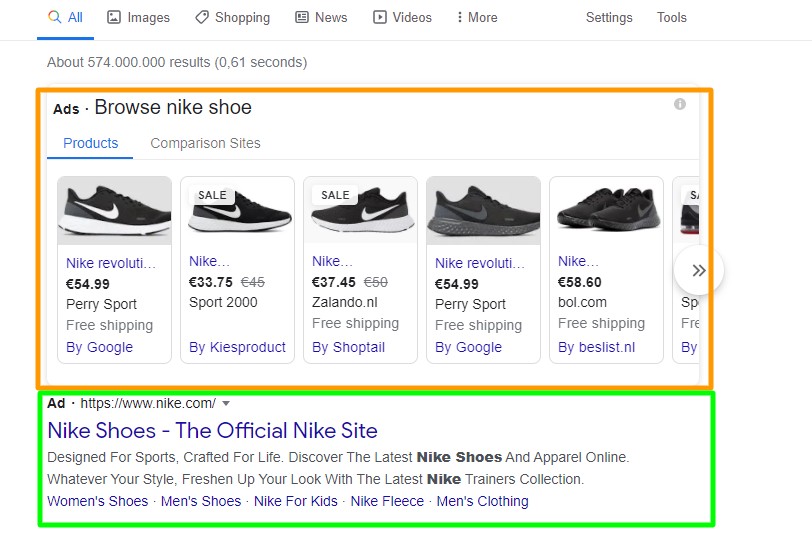 For more information on what Shopping Ads are, see this Google article.
Start using Shopping Ads in Channable
To start using the Shopping Ads functionality in Channable, it is important to send your product listings to Google Merchant center through either a Google Shopping feed or Google Shopping API from Channable. The next steps are to connect Channable with your Google Ads account and setting up your first Shopping Ads campaign.