If you have an online store based on the Squarespace platform, you can import your products using the Channable extension in Squarespace.
Connecting your Squarespace store to Channable
Step 1 - Installing the extension
You can find and install the Channable extension for Squarespace on this page in the Squarespace extension store.
After logging in to Squarespace and selecting the site you'd like to connect to, you will be prompted with the following permissions screen: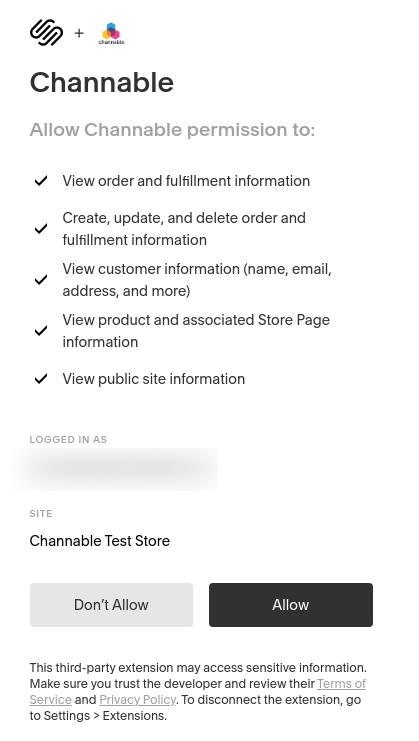 By clicking "Allow" on this screen you give Channable the necessary access rights to your store to be able to synchronize your product and orders data.
Step 2 - Creating or logging in to a Channable account
If you're not logged in to a Channable account yet, you will see the following screen next: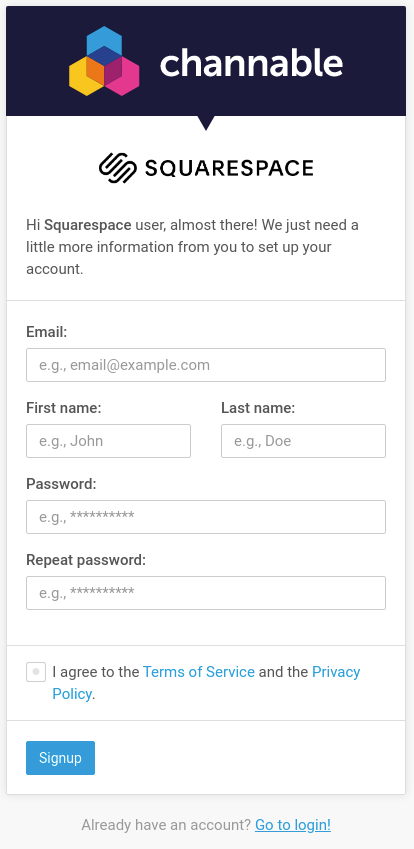 In this screen you can either create a new Channable account or login to an existing account if you already have one. If you were already logged in to Channable this step will be skipped and you can continue with step 3.
Step 3 - Adding the Squarespace connection to Channable
After clicking "Allow" you will be forwarded to the Channable app. You can either login to an existing Channable account if you already have one, or create a fresh Channable account.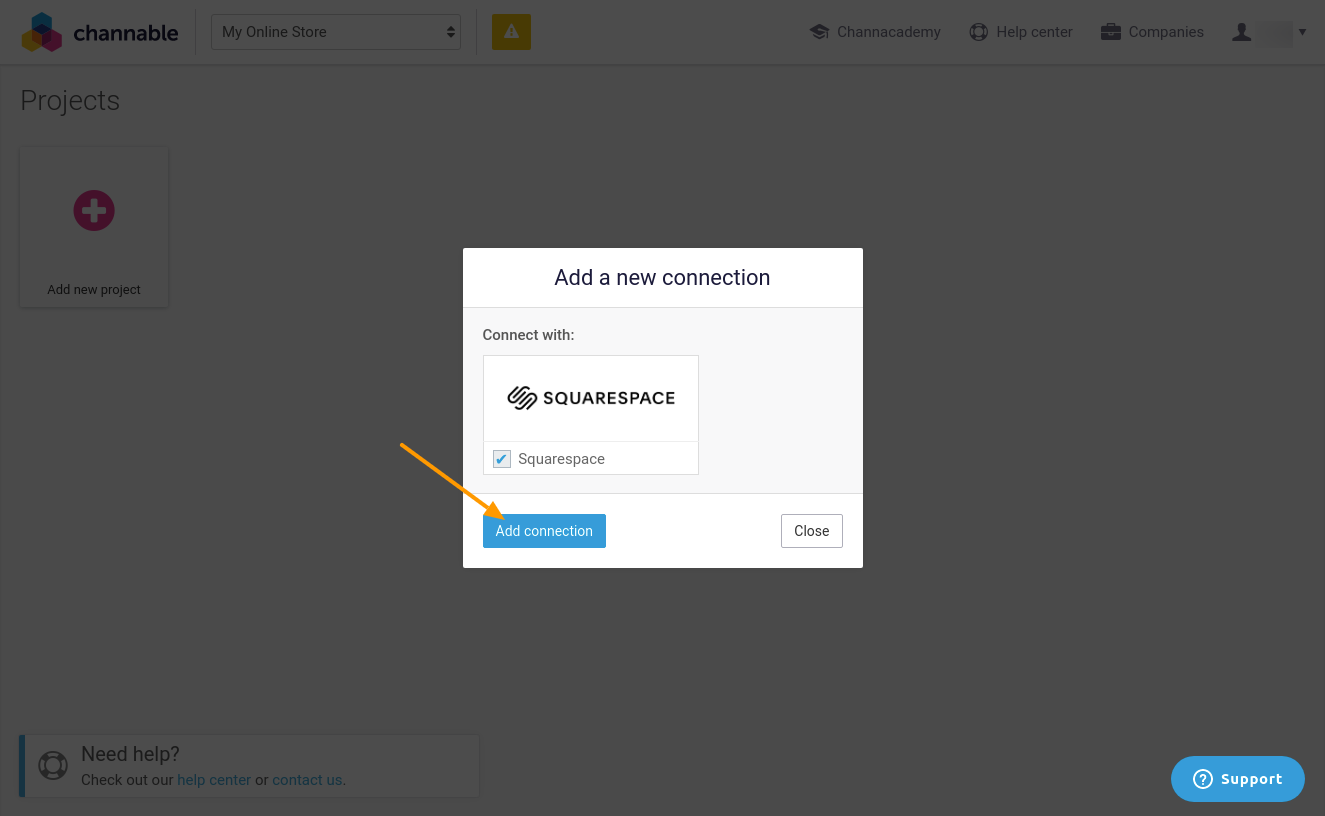 After clicking the "Add connection" button the Channable app has a working connecting to your Squarespace store. Channable automatically creates a fresh "Project" for you that imports the product data from this newly created connection.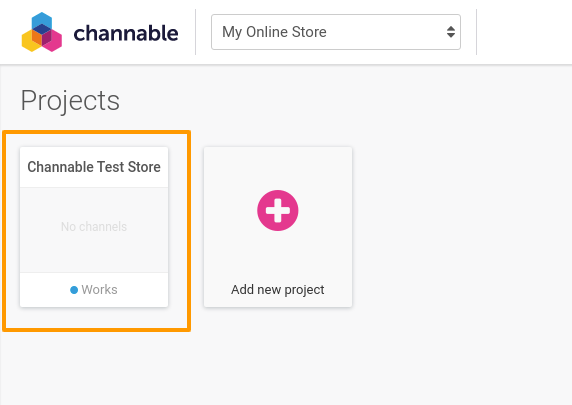 You are now done creating your connection, great! This means that you now have what you need to get started with Channable.
Getting started with Channable
You now have a Trial account in Channable with an empty project in it. In the Trial mode you can get used to Channable's functionalities without being billed for it just yet.
To get you started with your Channable account, below we'll cover some common questions that you might have as a new Channable user!
Q&A
What's next? Where do I start?
One of our colleagues will reach out to you as soon as possible to help you get onboard! However, in the meanwhile we would advise you to look at the following articles to get familiar with the Channable interface in general:
These articles will give you a good first impression of the Channable interface. Do you want to learn more? Check out the Channacademy described in the blue section below!
How do I get my products listed on an advertisement channel?
Channable offers more than 2500 price comparison websites, affiliate networks, and marketplaces to choose from. Channable will setup the first advertisement Channel for you free of charge! This will be discussed during your onboarding call with one of our colleagues. Do you want to get started yourself straight away? Here are some guides to setting up common advertisement channels:
setting up feeds within Channable.
Some advertisement channels (e.g. Amazon) requires UPC or GTIN codes, how do I add those?
You can use Channable to extend your product data with any missing information. We have described how to extend your product information with UPCs/GTINs in this helpcenter article.
Some advertisement channels (e.g. Facebook) require the Brand of my products, how do I add those?
The easiest way of adding this information is by creating a new field within Channable (you can name it brand for example). If you already have the brand information in your description, title or any other field, you can then use the "search for value" rule in your exports to fill this field. Simply add the list of brands you sell to this rule, and Channable will search for them to identify the brand for each product.
The categories of my Squarespace products are not being imported into Channable, what do I do?
Unfortunately, at this point in time the categories are not yet exposed by the Squarespace API. However, you might be able to use the tags field as an alternative! This field contains the values which you have set in your Squarespace backoffice under "tags". We recommend utilizing these values to indicate your category, so you can use this field when mapping categories for your export.