Where can I find the Shopping Ads errors?
To see if any part of your Shopping Ads campaigns contains any errors navigate to the Preview step of your ad generator. Here you will see different tabs for the different Shopping Ads elements such as campaigns and ad groups. Click on the tab you want to see the errors for and to filter on errors, select "By Error" from the Filter drop-down menu. Now you see elements that contain errors and the "Status" column will show you which errors occur. Click on the error itself and you will see more information about the error such as what triggered the error and the type of error.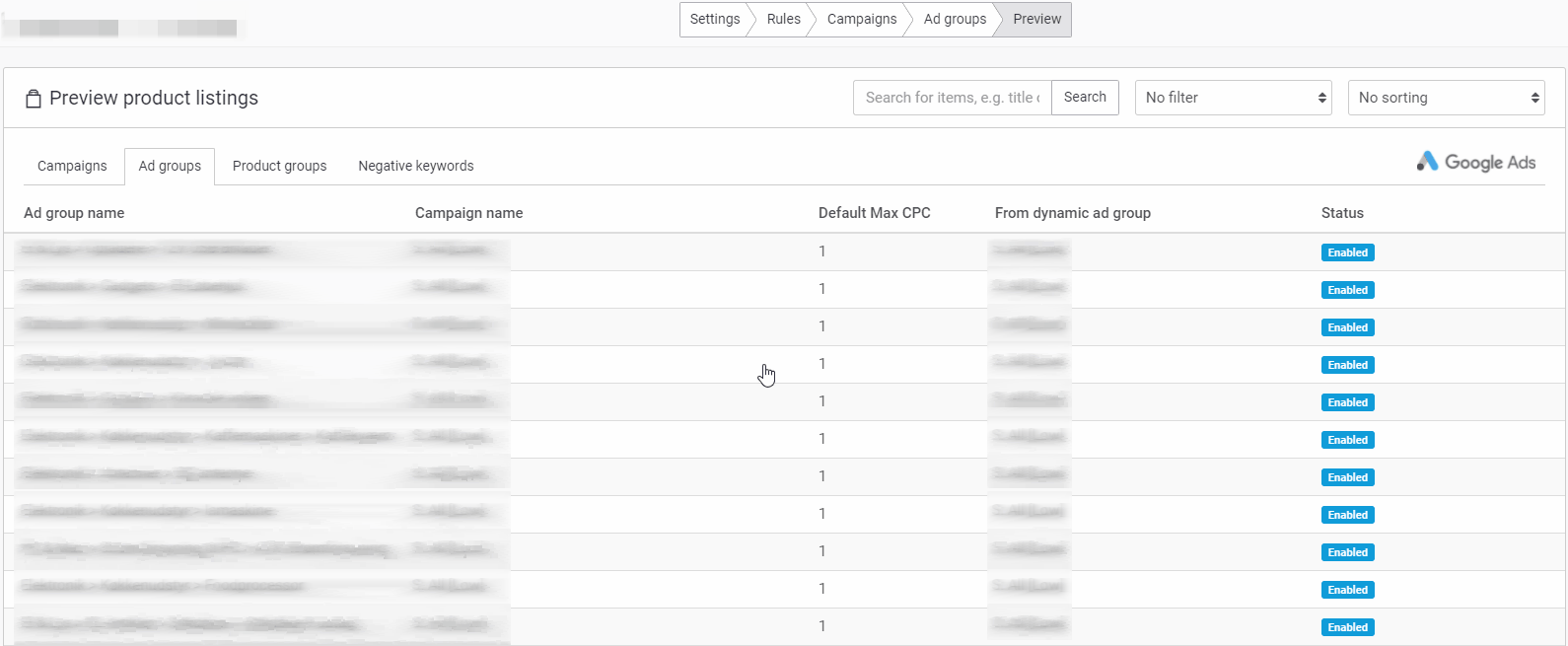 1. Incorrect Merchant ID
If you see this error you should check your Merchant ID and check if you have linked your Google Merchant center to your Google Ads account correctly. You can read more about how to link these account by following Google's article: Link your Merchant Center and Google Ads account
2. Changes made in Google Ads resulting in a failed generator
If you make any changes to the Ads (with the exception of the CPC value) this will cause a synchronization error between Channable and Google Ads. Due to this synchronization error, the generator will fail.
To fix this you will have to revert the change that was made in Google Ads. You can accomplish this by using the "undo" button to revert changes in Google Ads.
3. 'ad group has incompatible product group subdivision coming from multiple dynamic ad groups'
This error will be seen if you have multiple ad group generators using the same ad group name but different product group subdivisions
4. Exceed Product Limit
There are limitations that Google has placed on the number of products. This limit is based on 'nodes' which Google determines to be everything in a product group subdivision tree as a 'node'.
Therefore creating 3 levels of subdivision will take away from the number of products (nodes) that you are allowed. The limit for this is 20,000 and if you exceed this you will experience an error.
A workaround to this is you can choose to not use product ID at the lowest level, because if you choose, for example, 'brand' as the level above all products will still fall within their respective brands > or workaround by creating new ad groups (i.e. using multiple ad group generators)
5. CPC Value
Channable only determines the CPC value once, which means: when the ad group is being created we set the CPC that has been set at that point in time in the settings of the Shopping generator. When new product groups are being created they retrieve the default CPC that from the ad group they fall under.
However, if you were to create new ad groups after you changed the CPC setting, these would get the new CPC. Product groups under those new ad groups would then also get the new CPC value.
The CPC value is never again updated for the Ad by Channable because you are able to do this manually or with one of the tools that can be linked with Google Ads.