Do you want to learn interactively all basics related to the creation of an API export, or how to make an advanced setup for an API in Channable?
Learn how to create a Channacademy account in the Channable app through this
helpcenter article
and start with the
Basic APIs
or
Expert APIs
course.
Important: EAN codes are mandatory for ePrice. Make sure you have valid EAN codes for all your products, otherwise no product listings can be created for your products.

Step 1: Generate your API credentials in your ePrice account
The ePrice API uses the Mirakl platform, which means you will need a Mirakl-account to start sending your product listings to ePrice.
When you have a Mirakl ePrice account, login and navigate to My user settings by clicking on your email address in the top right corner. After that you go to "API key" tab and click "generate API key" if there is no key available yet. If there is an API key available, you can use that one, you don't have to create a new one. Copy the API key, you will need this for the next step.

Next, you will need to find you Shop ID in your seller central. First select the shop you want to send products to in the top right corner. Next, go to My Account > Settings to find your Shop ID. Copy your Shop ID as well, you will need this for the next step.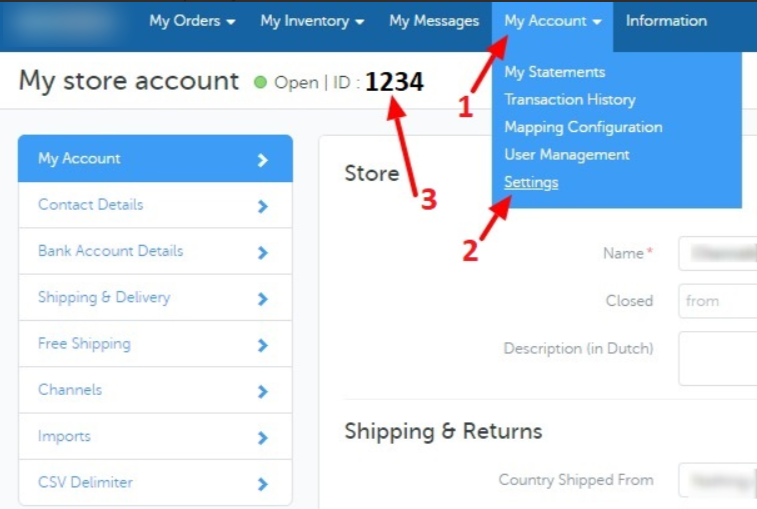 Step 2: Create a new ePrice API in Channable
Go to Channable, open your project and go to APIs > Add new API. A new screen will open with the API Settings where you can click on the "+ Add new connection" button.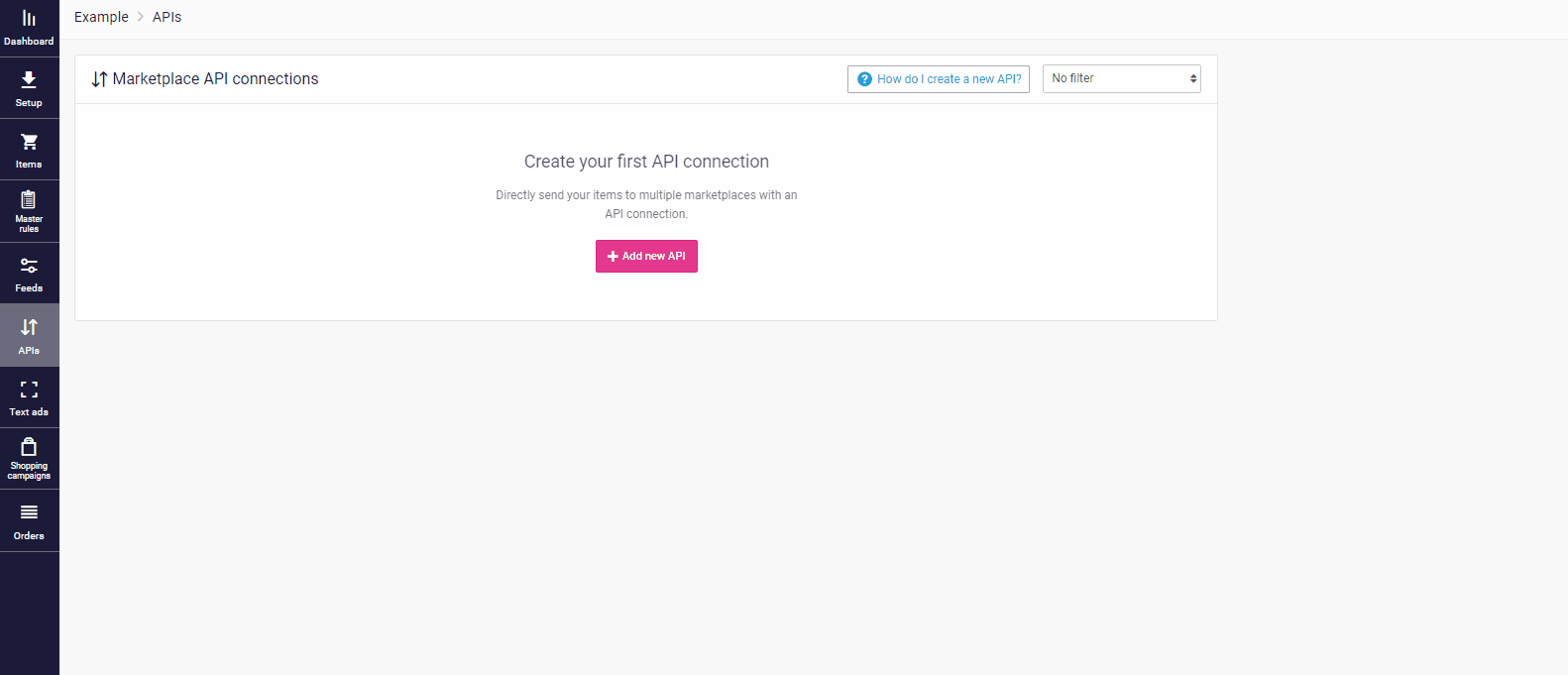 To create a new connection fill in a name for the connection under "Label". Fill in the API key and Shop ID you copied in step 1, and click the "Create" button to save your connection.
You will then be redirected back to the API Settings step where you can your API a name. After choosing a name click on the "Continue" button to create your new ePrice API.


Step 3: Create your product listings in Channable
Once you have created the ePrice API you can setup your product data by following the steps of the API.
Categories
For your product listings to be created your products need a category. Add categories to your products by using the generate categories feature or create new categories from scratch.


Rules
Create different rules to optimize your products listings. For examples take a look at our common rules support article.


Build
Here you can find our preset template for the product listings. All you have to do is to fill it out by clicking on the field itself and selecting what you would like to go in there. For example, the field 'Title' should display the title of your product and so on. When you have finished setting up the product listings, just click 'save' on the bottom of the screen.

Tip! Notice the question mark behind every field, if you hover over the question mark you will see the description of the field and suggestions for possible values.

Note: ePrice has a fulfillment latency field that indicates how many days it takes for the package to arrive. ePrice always adds +3 days on their side. Therefore, you can also select negative days in Channable for this field. For example: -1 means -1 + 3 = in 2 days at home.




Attributes
Almost done! Next up is filling in the fields in the Attributes step. Select the category you want to optimize first. An example of what should be in front of you now can be seen in the screenshot below. A more detailed explanation of what to do in the Attributes step can be found in our Attributes support article.
Step 4: Send your product data to ePrice!
Almost there, your product listings are ready to be sent. If you have not activated your project go to Settings > Project settings on the left-hand side of the screen and click "activate project". After, go back to the APIs overview and go to "Your ePrice API Name" > Settings where you activate the API by selecting "Activate API". After you have completed this step navigates back to then APIs overview and select the blue "Run now" button to sent your product listings to ePrice.
Step 5: Check your product listings for errors
If you have sent you product listings to ePrice go to the Preview tab of your ePrice API. Click filter on 'error'. Now you can see which product listings have errors and are not created. Click on a specific error to see more information on what is causing the error and check out our error solutions section on how to correct errors.