As the options in zDirect are limited to altering an order's status, every part of the order handling has to happen through the API. Therefore, to be able to sell on Zalando, it is required to also use an order connection in Channable. See if your webshop platform is supported for an order connection in this article.
There are 3 actions you need to take regarding order fulfillment:
Shipment confirmation;
Indicating an order item as returned;
Canceling orders.
If for any reason it's not possible for you to handle the above actions, there is an option in the Channable tool for each of these actions. We will explain how these three options work in this article, or at least how they work within Channable.
Note:
For more information about order fulfillment in Zalando
see this page.
Shipment confirmation
When completing Zalando orders, it is mandatory to provide customers with a return track & trace code and a return label, enabling them to send back the purchased items. Currently, the functionality of automatically adding the return track & trace code is only possible if you're using Magento or the Channable API. We're looking into the options for making this feature available for other import platforms as well.
When a customer chooses to return an item, you will not receive immediate notification of this via Zalando. You will notice this when the return package has arrived in your warehouse.
If for some reason, we don't support shipment updates, you can use the 'Confirm shipment' option in the tool. You will see this option in the top right corner of the order in Channable (first, you move to the 'Orders' section in the tool and then you click one of the orders there). Here, you can also select the transporter and fill in the Track and Trace code.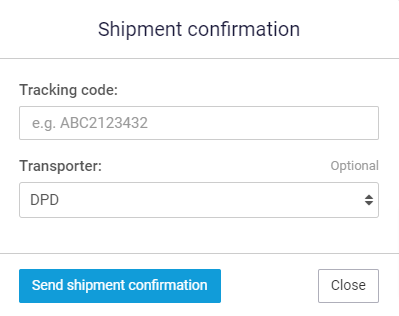 Returns
When shipping a package, you are required to include a return label that end customers can use to return the item to you. You won't get a notification from Zalando that an item is returned. You will only know about it when the return package is received at your warehouse.
You need to indicate to Zalando that an item has been returned. There is an option in Channable to process returns (see image below). You can indicate which items and in what quantity were returned for each order. When you did that, we will send an update to Zalando that those items have been returned. Zalando will then take care of any refunds. You have to take care of updating the stock in your backend yourself.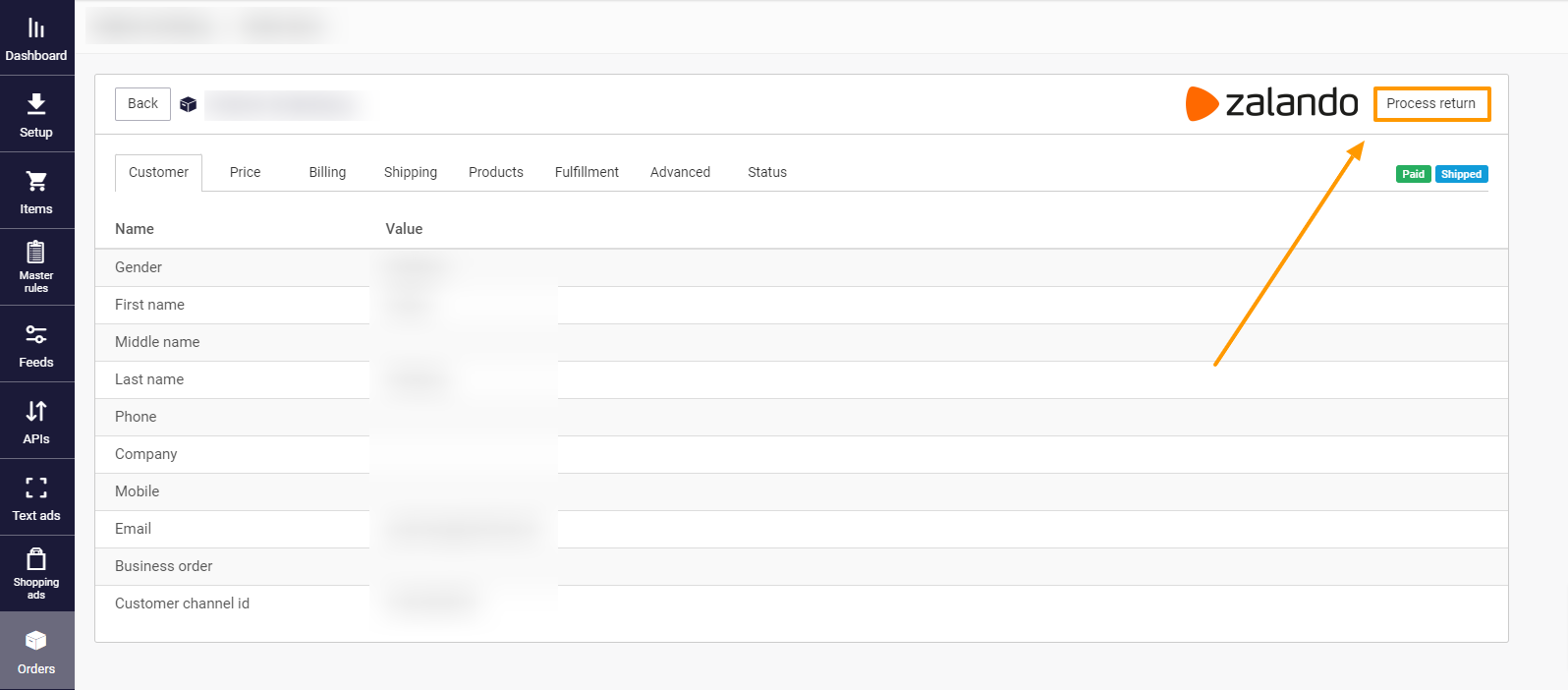 Canceling orders
If an order has the status not_shipped, manualor waiting, a button is shown in the top right corner of the order to cancel the order. If you cancel an order, as with returns, you will have to adjust the stock in your backend yourself.