With our Amazon Ads connection, you can create dynamic Sponsored products ad campaigns for Amazon easily. Sponsored Ads target shopping queries or products, and occupy high-visibility placements on Amazon. This article will help you get started setting up your Amazon Ads Campaign.
Do you want to learn interactively how to set up Amazon ads in Channable?
Learn how to create a Channacademy account in the Channable app through this
Help Center article
and start with the Amazon Ads course.
Step 1: Setting up the Amazon connection
Creating an Amazon Ads connection
If you haven't created an Amazon Ads connection yet, please follow the instructions in this article to create a connection with Amazon Ads. 
Configure the Amazon Ads channel
Set up your Amazon Sales Channel configuration. Please follow the steps on this page to set up the Amazon Ads configuration for the sales channel.
Step 2: Setting up rules
After creating a connection and setting up the Amazon Ads configuration, it is time to set up rules. In this step, you can set up rules to modify your product information, add extra rules for filtering out products, or use insights data!
Step 3: Setting up the campaign generator
Create an Amazon Ads generator
In the Campaign section, Click Add campaign generator to create your first campaign generator. 

Give the generator a clear name in case you are going to set up multiple generators.
Set the Campaign Targeting Type
Choose an automatic or a manual campaign. An automatic campaign has less control, as Amazon manages all the (positive) targets for Automatic targeting campaigns. In campaigns with manual targeting, targets are completely managed by the user in our tool.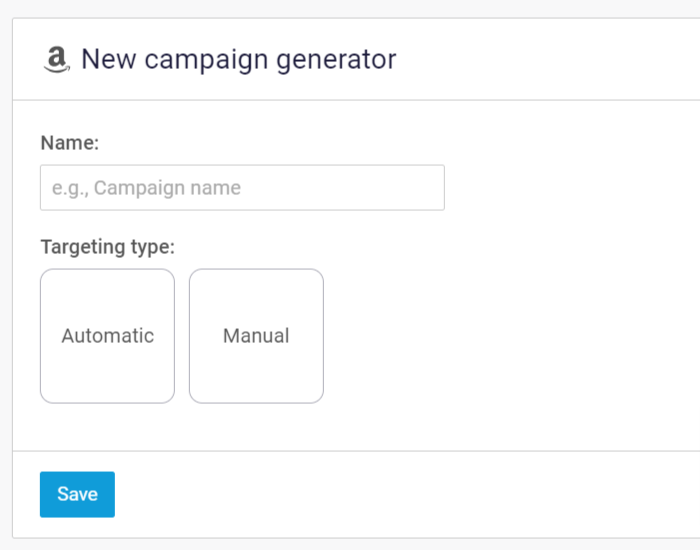 More information about campaign types can be found in this article.
Step 4: Build the Amazon Ads campaign
The Campaign Template
Now you can start by creating a campaign template. You can use a combination of static and dynamic field names to create a campaign template. This template name needs to be unique, so make sure you don't use fields here with identical values. 

Channable will use the same name for campaigns as ad groups since we currently use only one ad group per campaign. However, the group name can be changed on Amazon if you want.
Daily Budget
Next, you set your daily budget. Determine what your maximum spend per day will be in the currency of that specific channel.

Bidding Strategy
In the next step, you can select a campaign bidding strategy. There are three bidding strategies available: fixed bids, dynamic bids - down only, or dynamic bids - up and down. More information about bidding strategies can be found in this article.

Bid Placement Adjustments
In this step, you configure your bidding placement adjustments. Set your default bid per ad, and the adjustment for the bid for getting a Top-of-search ad or a Product page ad to enable a better bid for premium ad locations.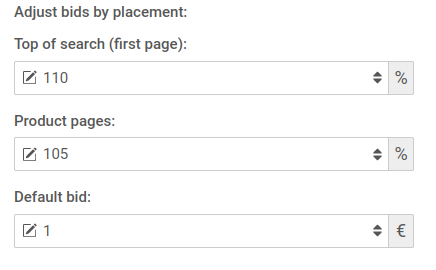 More details on this can be found in this article.
Keywords
In the next tab, you can set your targeting keywords. Keywords represent search terms and are divided into two tabs: keywords and negative keywords.
Keywords have three match types and need at least one type, but all three can be selected: Broad, Phrase, and/or Exact.
Keywords can contain more than one word and Amazon will match them differently to the actual search term used in the marketplace.
Keywords

Important: Keywords are only available in manual campaigns and can contain dynamic fields. These are keywords or phrases that your ad will be shown for.
Negative Keywords
Negative keywords are available in both manual campaigns and automatic campaigns and can contain dynamic fields. These keywords prevent your ad from being shown when the search term matches them.
Important: Dynamic fields used for keywords can only contain 1 value, We do not support using a list of values when generating a keyword, so a split rule has to be added in advance if that's the case.
More information about Amazon Ads Keywords can be found on this page.
Step 5: Preview your results
Before sending your ads to Amazon, you can use the preview step to generate all ads without actually creating them on Amazon. This way you can check if your configuration has the desired result. Remember to reload the preview after each adjustment to see the actual effects of your changes.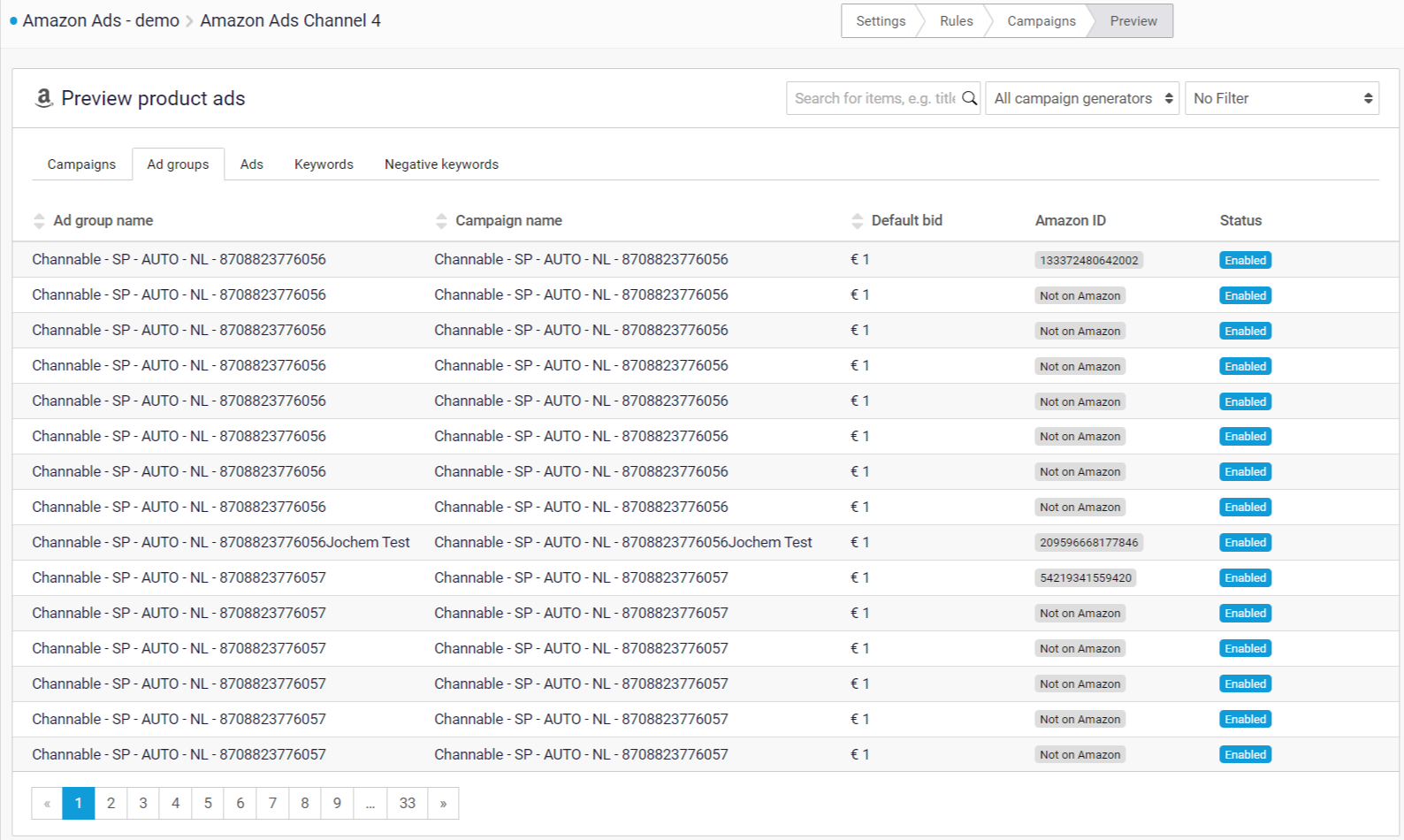 More information about the preview tab can be found on this page.
When you are satisfied with the results, you can activate the generator and send your ads to Amazon!
Automation rules
The final part of the setup is the automation step. In this section, you can set up automation rules to change, pause, or move keywords based on performance data from Amazon. This performance data comes from the sales channel you selected in the first step when setting up your campaign. 
You can use this part of the generator to move keywords from automated campaigns, which are performing well, to manual campaigns with bigger budgets for example. Automation rules are in effect as the last part of the process and after some performance data is collected. 
In this article, you can find all the information about automation rules and how to set them up properly.
Questions and errors
If you are running into errors or if you have any questions, please check out our Amazon Ads Errors page and FAQ. If you are still running into problems, then please contact our support department!