This article assumes you have read the article: How do I import from a datafeed?
Step 1 - Publish Google Spreadsheet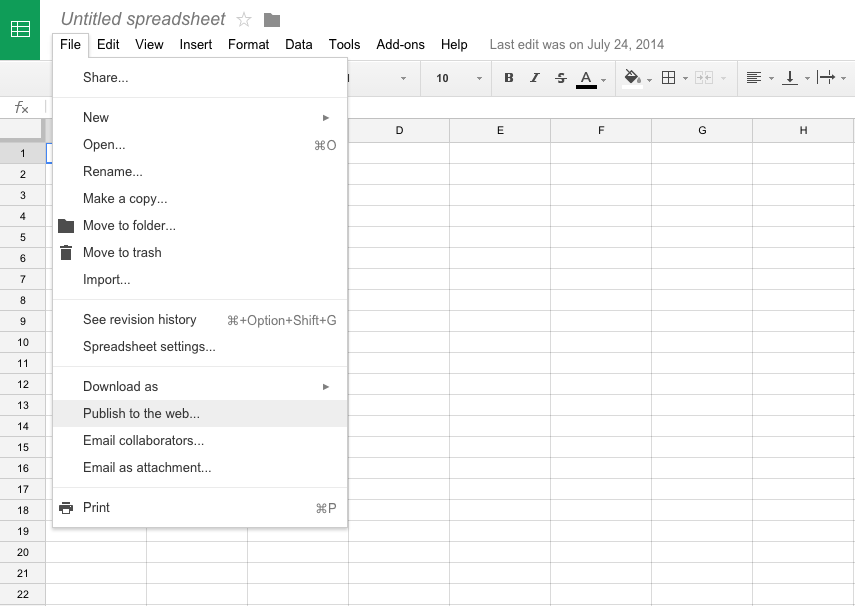 If you want to import the information from your Google Spreadsheet to Channable you have to make your sheet public. To do this you have to follow these steps:
Go to your Google Spreadsheet
Click on File
Publish to the web
If you have multiple sheets in one Google Spreadsheet and you want to import them all into Channable, you need to choose "Entire Document":

If you have multiple sheets in one Google Spreadsheet and you want to publish individual sheets, you need to create a separate import per sheet, selecting the name of the sheet you want to import. In the following example, we will only import 'Sheet1':

Publish
Copy the link and paste it into Channable, after having selected 'Google Spreadsheet' as your import type.
Step 2 - Setup webshop
Now go back to your project in Channable and go to the setup page. Now click on the '+ Combine webshops' button. Here you can click 'Google Spreadsheet' and enter the link from Google Spreadsheet. Now click continue.
Channacademy
Do you want to know more about setting up your import in Channable? Our online training platform, the Channacademy, teaches you everything you need to know to start getting your items imported into Channable. Create your own Channacademy account in the Channable app. Using the other lessons, you can immediately start learning how to export your items too!