Important: Make sure you connect with a Google Ads client account, not a manager account. We need to invite your Google Ads account to our MCC account, and this connection only works with client accounts. If you try to connect with a manager account you will get errors in your Text Ads, Shopping Ads and Channable Insights.
The first step of this process involves making sure that your subscription with Channable includes the Google Ads option. You can choose a plan with Google Ads under Channable plans.
1) Ads page
When you have added this option, head over to the Channable app and the 'Text Ads' tab will appear on your screen.
2) Adding the connection
Click on the 'Text Ads' tab and and click '+Add new dynamic ads generator'. Click 'add new connection', if you haven't yet created the connection*. Fill in your Google Ads account id and create a new connection. You will also need to choose a unique ID per product from the drop down menu and from this page you can activate your ads when you're ready. We recommend leaving this as inactive until you've finished building your ads.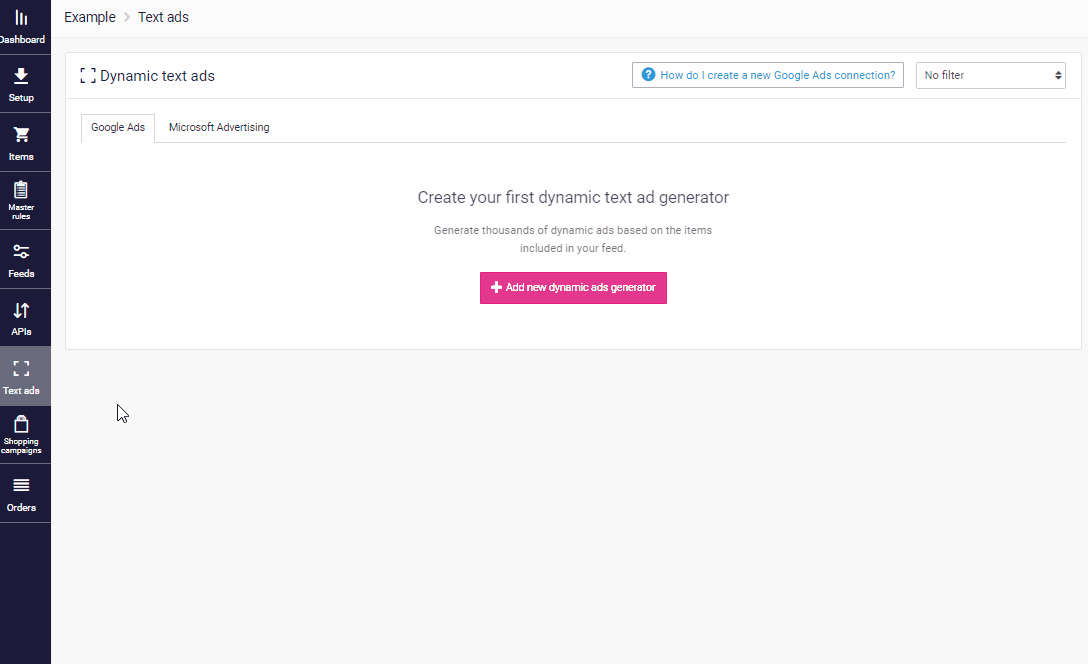 Note: After you've made a connection with Google Ads, we have to manually connect our Ads account with your own. Please ask us to send you an invite to connect to your Ads account.
This is the first step in creating your Ads campaign. If you want to start configuring Google Ads see the next page.