To add targeting to your ads, head over to the 'Campaigns' tab of your ad generator. Within the 'Campaigns' tab you will see two tabs. Select the 'Targeting' tab to add targeting to your ads. There are several settings to configure here:
1) Override targeting
Determine what happens when Channable pushes location targeting to Google that is later manually changed on Google. Channable can either ignore the manual changes, or overwrite them. By default, this option is turned off and Channable will ignore manual changes done in Google Ads. If you turn the option on by clicking on the checkbox, Channable will start overwriting manual changes with every run.
2) Targeting setting
You can change the targeting setting from "Default" specifically to either "Targeting" or "Observation". Use the "Targeting" setting in your ad groups or campaigns if you want to narrow your ad group to only show to specific audiences or on specific content you've selected. Use the "Observation" setting if you don't want to narrow your campaign's or ad groups targeting any further, but you want to monitor how certain criteria perform with your ads.
3) Location targeting
You can choose the type of location targeting here. You can choose either "Location of Presence", "Area of Interest", or both.
4) Targeted countries & languages
You can add target countries and target languages by clicking on the "+ Add target country" and "+ Add target language" buttons. A field for the target is then added and you can use the drop down menu to select the correct country or language. It is possible to add multiple target countries as well as multiple target languages. If you do not add any specific countries and languages the targeting will be set to "All countries and territories" and "All languages".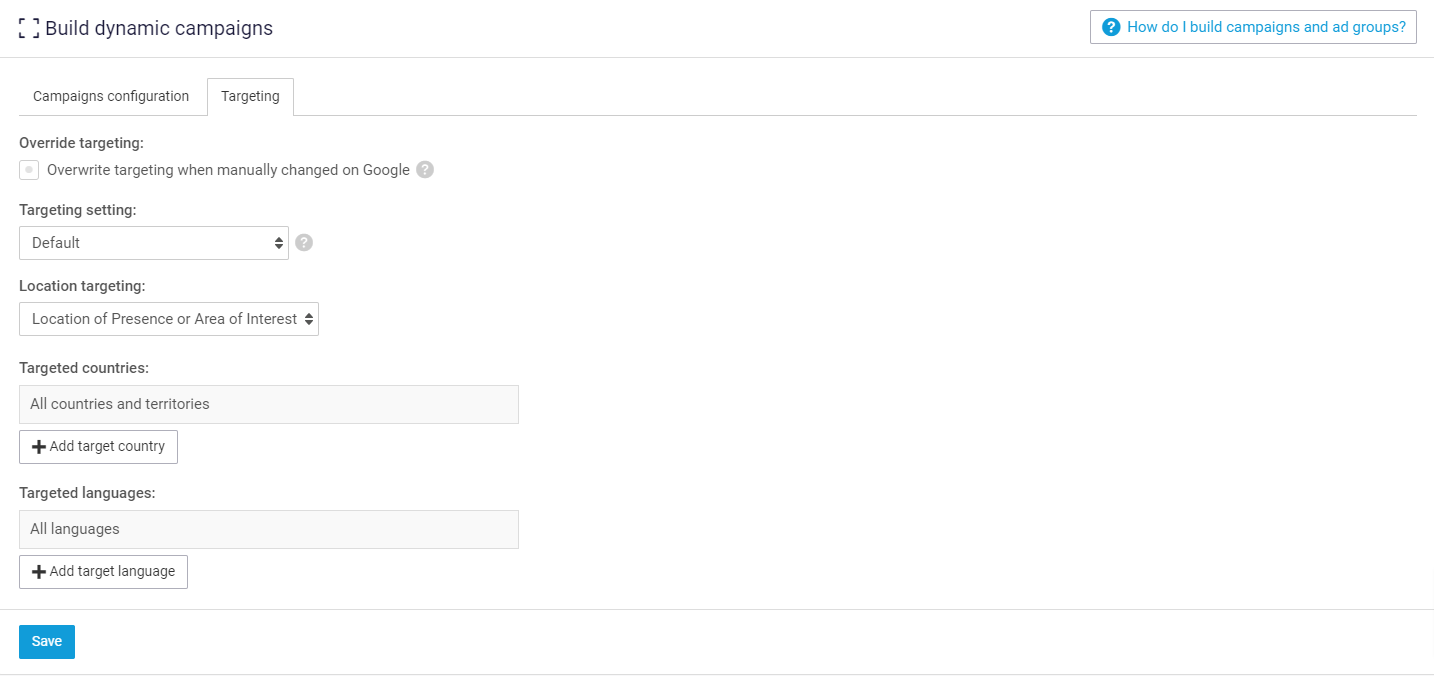 Note: You can only configure Country level targeting in Channable. Other targeting (i.e. Regional/City) cannot be configured in Channable, you can add this manually in Google Ads. This manual targeting will not be overwritten by the settings in Channable, only the Country level is synchronized with every run.