To configure your campaign, navigate to the campaigns step, which will take you to the campaigns configuration tab.
Note: there is an additional tab at the top of the campaigns tab which will let you manage the targeting.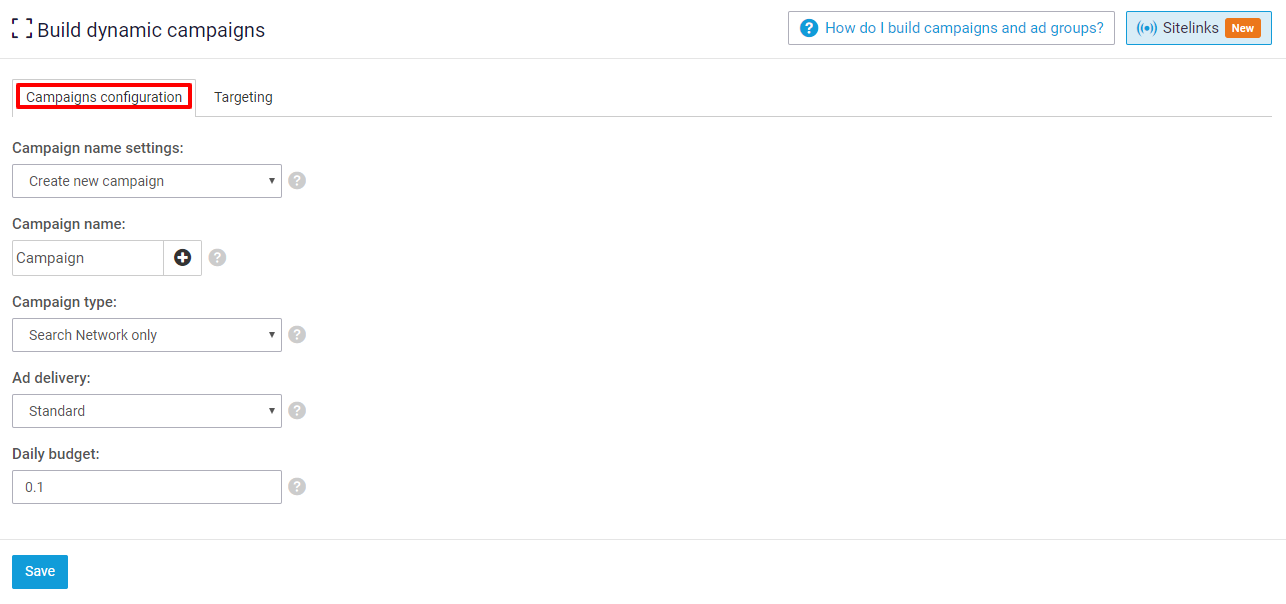 General settings of the campaigns step
First, under "Campaign name settings" you can choose to either create a new campaign or choose an existing campaign.
If you select create new campaign, you can input the campaign name you want under "Campaign name". The name of this campaign can be dynamic: you can use the values of fields from your feed. For example, if you use the field 'brand' in campaign name, you can create campaigns for each brand in your feed.
If you select choose existing campaign you can choose from campaigns that already exist in your Google Ads account under "Campaign name". Note that you can only choose campaigns that have not been created by Channable, i.e. only campaigns that are manually created in your Google Ads account. When pushing a generator to an existing campaign, Channable will add the ad groups to what's already in the existing campaign unless the name of an ad group pushed by Channable is exactly the same as a pre-existing (i.e. manually added) ad group in the existing campaign. In the last case, we will overwrite this ad group.
Next, under ''campaign type'' you can choose your campaign type. In this option you can determine if you only want your ads to appear in the Google search or/and also on the Google Display network.
Next, under ''daily budget'' you can choose a daily budget, in the local currency of your account, for each campaign based on your advertising goals and the average amount you're comfortable spending each day. As for the Default Max CPC we recommend you modify this value to your liking within your Google Ads account and use our feature to set a minimum default.
Last, in the targeting tab you can add targeting to your ads. The targeting that you set up is sent once by Channable when an ad is created. If you change the targeting after that in Google Ads it will not be overwritten by Channable. More information about targeting can be found here.
Continue building your adgroups here.