Do you want to learn interactively all basics related to the creation of an API export, or how to make an advanced setup for an API in Channable?
Learn how to create a Channacademy account in the Channable app through this
Help Center article
and start with the
Basic APIs
or
Expert APIs
course.
Walmart is one of the largest American supermarket chains, with more than 10,000 stores in 27 countries today.
The setup of the Walmart API in Channable is quite intuitive, but there are a couple of good-to-knows, and you can find them in this Help Center article.
Step 1:
Add a new Walmart connection
You first have to create a Walmart client ID and secret that can be retrieved in the Walmart Developer Portal. During this process, you will have to indicate which integrator you work with, but also which rights you want to give us. We need at least the rights that are highlighted (choose Access) in the screenshot below: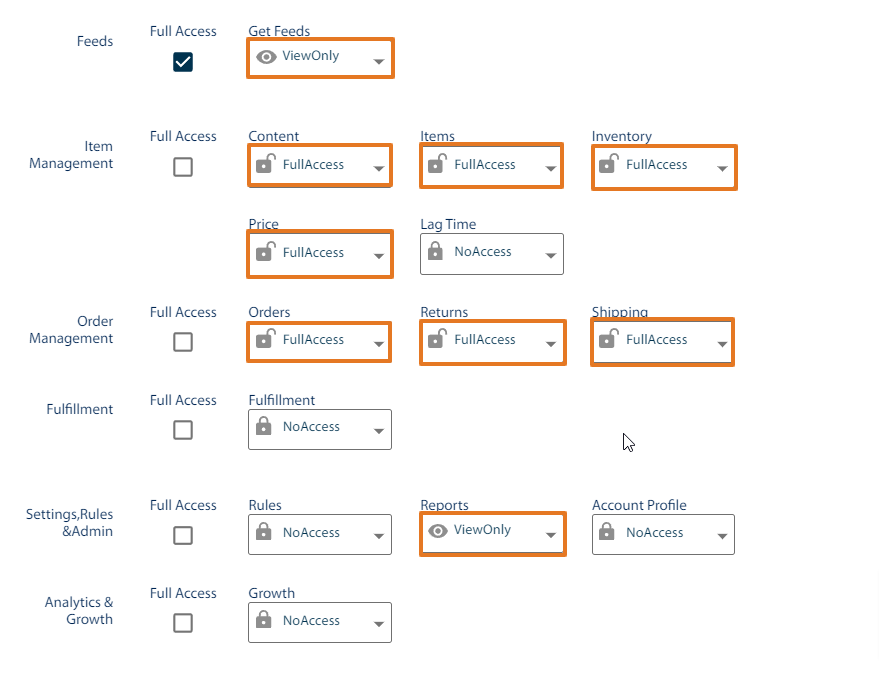 After giving us the correct permissions, you will receive a client ID and secret, that you can copy/paste into the connection in the Channable interface. So when you received the client ID and secret, go to "[Your company] settings menu (in the top right corner) > Connections > Add connection". Click on "+ Add a new connection" and you will see a screen, where you can select Walmart. Fill in the label for your connection, for example: Walmart, and copy/paste the client ID and secret you received from Walmart. Click on "Create" to finish creating your Walmart connection. 
Step 2: Add a new Walmart API in Channable
Now go to the API's overview, in your project. And click on "Add new API", select the Walmart connection you just made, and give your new API a name.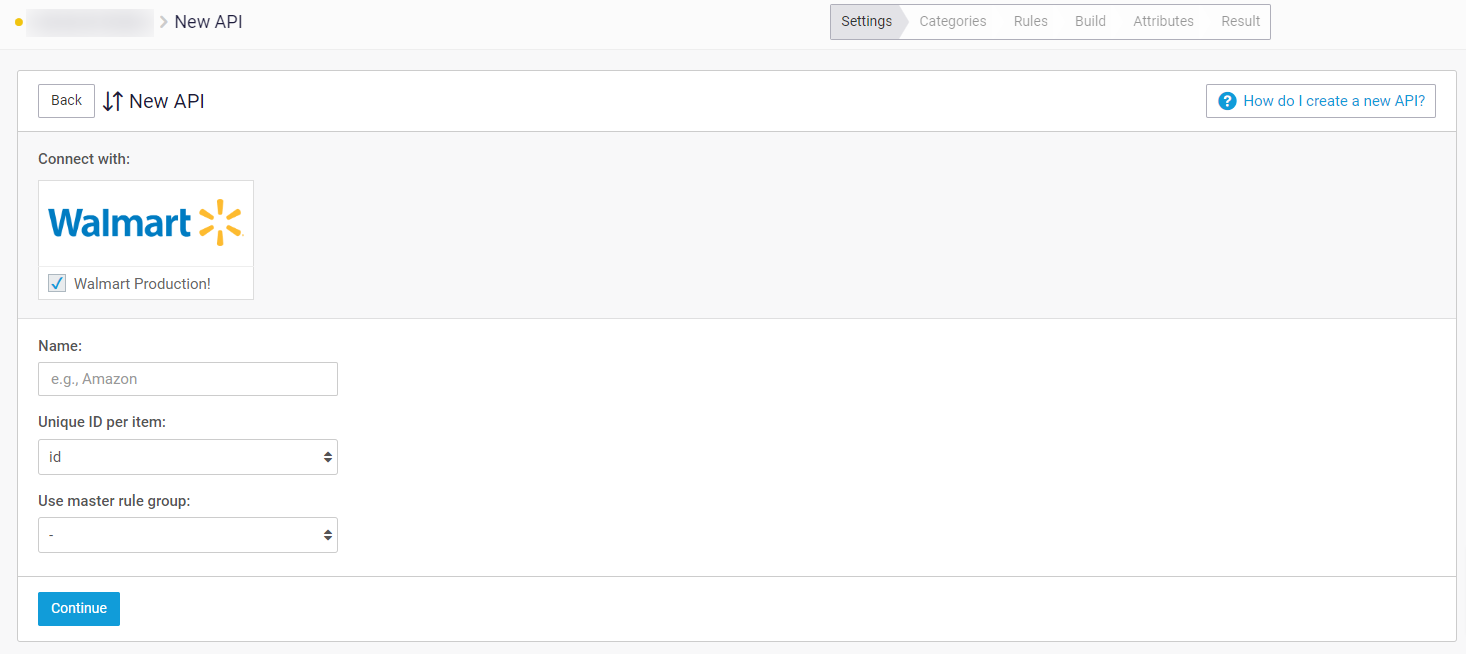 Select the field you want to use for Unique ID per item (we recommend the 'id' field) and you can also add a master rule group here if you would like. Click on "Continue" to finish creating the new Walmart API. 
Step 3: Create your product listings in Channable
Once you have created the Walmart API you can set up your product data by following the steps of the API.
A variant group ID: an ID that is shared by all variants in a group. You can use for example, parent_id or item_group_id for this.

A variant attribute name: what value does the variant group differ on (e.g. color, size).

The field that is associated with the variant code.

Filling this in allows you to create a variant group through our API. You can fill in multiple variant codes by placing an , in between each code (see screenshot). Doing so will result in the attribute builder indicating that this is an incorrect value, but Walmart will accept this nonetheless.

Step 4: Send your products to Walmart
Almost there, your product listings are ready to be sent. If you have not activated your project, go to Settings > Project settings on the left-hand side of the screen and click 'activate project'. After, go back to the APIs overview and go to "Your Walmart API Name" > Settings where you activate the API by selecting "Activate API". After you have completed this step, navigate back to the APIs overview and select the blue "Run now" button to sent your product listings to Walmart. When the API successfully pushes items to Walmart, the items go through various stages before they are actually published on Walmart and are available to the user to order. 
After the first run, you will probably see successfully pushed items in Channable, which means that the items are pushed to Walmart successfully, and we have created the items on Walmart. But in this stage the item is missing price and inventory. In the next exporter run we will then set the price and inventory of an item if the item was created successfully. You can use the Walmart Dashboard in order to track an item's publish status. 
Note: Walmart needs approximately 4 to 8 hours to update the price of new and existing listings.
Step 5: Check your product listings for errors
After you have sent your product listings to Walmart, go to the Results tab of your Walmart API. 
For errors, click filter on 'error'. Now you can see which product listings have errors and which are not listed. Click on a specific error to see more information on what is causing the error. If you have solved some errors by changing the settings or product information, re-run the Walmart API to see the new results.