This is a Help Center article of Channable, the tool for product feed management and marketplace integrations. If you don't have an account yet, sign up for free or learn how to integrate your online shop with eBay.
Do you want to learn interactively all basics related to the creation of an API export, or how to make an advanced setup for an API in Channable?
Learn how to create a Channacademy account in the Channable app through this
Help Center article
and start with the
Basic APIs
or
Expert APIs
course.
Before you start, read this first!
eBay charges listings costs for every time an ad (or listing as eBay calls them) is created. We place ads as "Good Till Cancelled" listings (read more about "GTC" on this eBay page)

.

Your eBay connection might expire after using it for a while. This will result in a 'failed API' with an error message. To refresh your connection, follow the

steps in this article.

Before you start. Make sure you are no longer logged in to your eBay account.
Step 1: Create a new eBay connection in Channable
Go to the project you are working in and navigate to "APIs > +Add new API > +Add new connection". Select eBay. You can now give a name to the connection and click on "Connect with eBay", then you will be redirected to your eBay environment.
Sign in with your email or username and password. Make sure you have not logged in to a different eBay account already. Back in Channable, you can finish creating the connection by clicking on 'Add connection'.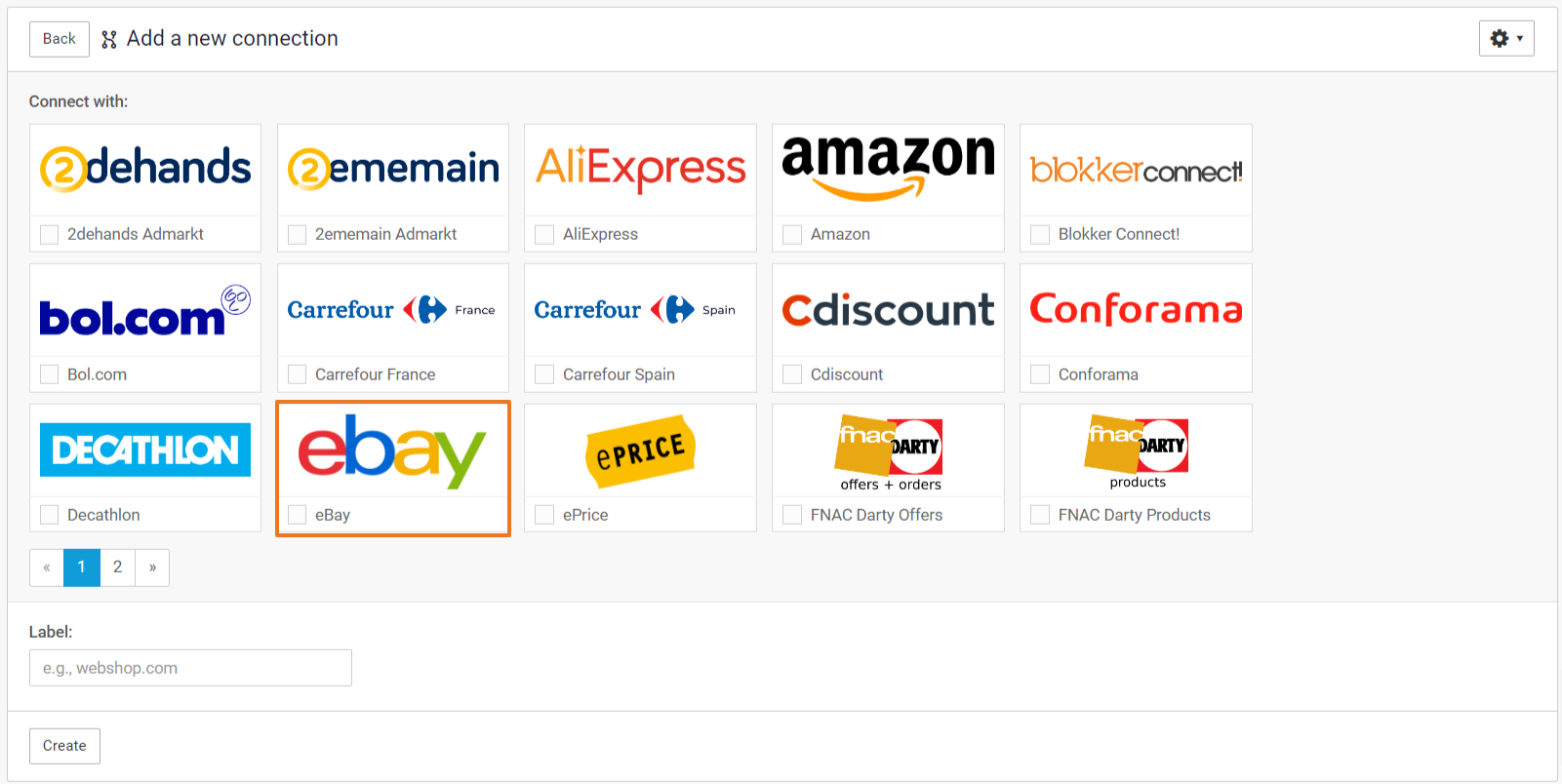 Step 2: Setup a new eBay API
Now that you have created a new connection with your eBay seller account, go back to "APIs" and select your eBay connection.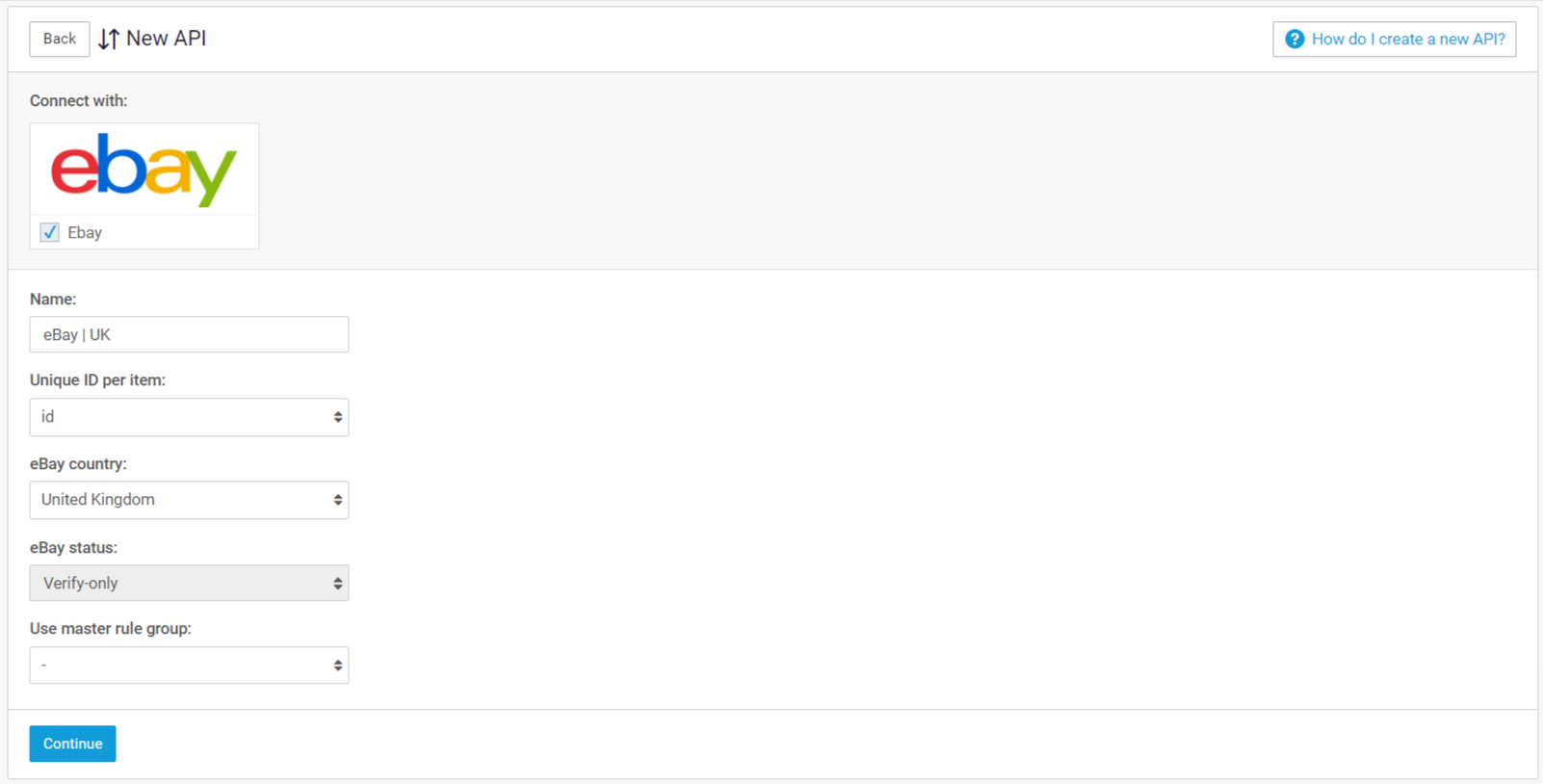 Here, you can give a Name to the API and select the eBay country in which you want to sell your products. Choosing a country has an impact on the business policies of that specific country. For more information, please see step 3.3. Select the field you want to use for the Unique ID per item, we recommend using the id field.
Furthermore, it is possible to give your API a status. There are two options:
Verify-only: The standard setting is "Verify-only". With the "Verify-only" status, you can activate the API to test for errors without actually publishing anything on eBay.
Publish: Once you are sure you want to publish your listings on eBay, you can change the status to "Publish".
Note I:
If
you have selected the "Verify-only" option and activated the API, you will
only
see the number of errors in the "Preview" step. You will not see the number of successful products as you are not publishing anything yet.
Note II: Once you set the Status in the API settings from "Verify-only" to "Publish" you will not be able to switch back to the 'Verify-only' mode!
Finally, you can use a master rule group (optional) and click on "Continue".
Step 3: Create your product listings
Follow the four steps below to configure your product listings for eBay.
Step 4: Send your product listings to eBay
Important: Channable will create new product listings in your eBay account, it will NOT connect to the products you already have published in your eBay account, so remember to delete all your products from your eBay account before sending them through Channable.
Once you have finished configuring your product listings, you can start sending your listings to eBay. If you have not activated the project yet, navigate to "Settings > Project settings > Activate project". Then, go back to "APIs > your eBay API > Settings > Activate API" and "Run now" to send your listings to eBay.
If you have still selected "Verify-only" as the status, your products will not appear on eBay yet. Instead, you will only see the error feedback from eBay in the "Results" step in Channable. When you are ready to publish your listings on eBay, select "Publish" as status and run the API again.
Note: Once you set the status in the API settings to "Publish", you will not be able to switch back to the "Verify-only" mode!
Step 5: Solve errors on your product listings
After you have sent your ads to eBay go to the "Results" tab. By clicking on "Errors" you can see which product listings have errors and will not be online. Click on an error to see what the error message is and which products have that error. When you send your listings with the status "Publish", you will also see the number of successful products in the "Results" step.
Note I:
If you get an error on one variant in a listing this error is shown for every variant in said listing.
Note II:
Listings are not automatically terminated if the stock is 0. So if a listing needs to be terminated it must be
excluded from Channable
.