Note I: This article assumes you have already advertised on Bol.com with your products. If you are new to advertising on Bol.com, please also read our support article on how to add unknown EAN codes to Bol.com.
Note II: EAN codes are mandatory for Bol.com. Make sure you have valid EAN codes for all your products, otherwise no product listings can be created for your products.
Note III: You have to log out from your Bol.com account before creating a connection. Otherwise, it will be connected automatically and this can cause unexpected problems later in the process.

IMPORTANT: Your Bol.com connection might expire after using it for a while. This will result in a 'failed API' with an error message. To refresh your connection, follow the steps in this article.
Step 1: Create a Bol.com API connection in Channable
To create a new Bol connection, go to [your name top right corner] > Connections > Add connection. Click on "+ Add a new connection" and you will see this screen, where you can select Bol.com: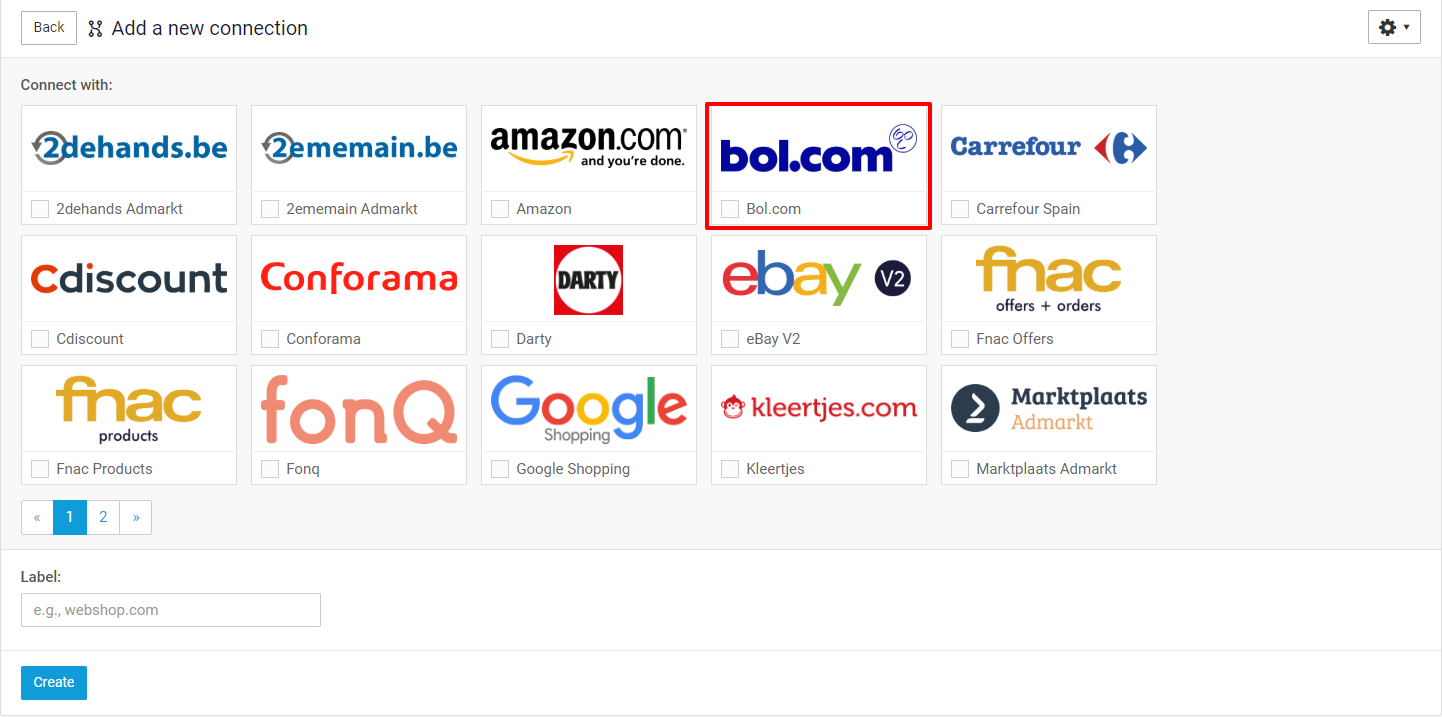 After selecting Bol.com, give the connection a label and click on "Connect with Bol.com". You will be redirected to log into your Bol.com seller account and accept the Bol.com Retailer API terms: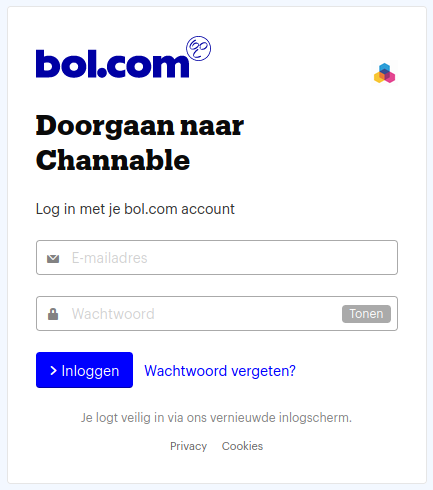 As soon as you have logged into your Bol.com seller account and accepted the terms, you are redirected back to Channable. Please do not forget to click the blue "Add connection" button to save your new connection.
You can now select the new Bol.com API connection when adding a new API. Give the API a name and click on "Continue" to start creating your product listings!
Step 2: Create your product listings in Channable
Actually creating your product listings is very simple and fast. You can create your product listing by following the four step shown below in the Bol.com API.
Categories


We advise to

first try

to send your products

without doing the categories. If Bol.com is already familiar with the EAN codes of your products, you will not need to do this step. You will know if Bol.com doesn't recognize the EAN codes of your products after running your Bol.com API. If the products are not yet known, you will see the following error in the Preview step of the API: "UNMATCHED_OFFER".


Rules
Create

different rules

to optimize your product data. For examples take a look at

our common rules support article. Be sure to include the three following rules as well to prevent errors.

Rule 1: Check if an EAN code is invalid. Bol.com only accepts products of which the EAN code is valid, so if the EAN code is invalid this rule excludes the product.

Rule 2: Check if your additional images contain any duplicates of your main image. If it does contain a duplicate, remove it. This can be done by using this rule below.

Rule 3: Limit the stock of your products if it is greater than 500. For Bol.com the maximum stock a product can have is 500, so if your stock is greater than that this rule sets it back to 500.



Build
Here you can find our preset template for the product listings. All you have to do is to fill it out by clicking on the field itself and selecting what you would like to go in there. For example, the field 'Title' should display the title of your product and so on.

You also fill in the delivery codes for your products here. You can do this in several ways. For more information about this, you can read this helpcenter article.

Tip! Notice the question mark behind every field, if you hover over the question mark you will see the description of the field and suggestions for possible values.



When you have finished setting up the product listings, just click 'save' at the bottom of the screen.


Note: If the 'Condition' is 'Nieuw' the condition 'Comment' needs to be empty, otherwise you will get errors. Once the condition 'Comment' has been sent to Bol, you can only remove this by deleting the listing from Bol and re-sending it without the comment.

Note II: The new Bol.com V3 API also supports volume discount. This can be configured in the Build step as well. See this article on how to configure volume discount in Channable!


Attributes
Just as with the Categories step, we advise to

first try

to send your products

without doing the attributes. If Bol.com is already familiar with the EAN codes of your products, you will not need to do this step.

Step 3: Remove the old product listings from your Bol.com account
It is important that there are no old product listings in your account when you activate the Bol API in Channable. To delete the old product listings navigate to Artikelen > Mijn aanbod. Here you can select all listings and delete them by clicking on Bewerk aanbod > Verwijderen. This step is important, because deleting the old listings prevents errors from occurring when you activate the Bol API in Channable.

Note: The product content of your old listings are stored in Bol's database when your remove old listings, so you will not have to fill in all mandatory attributes in the Attributes step for products you were already selling on Bol. The Build step does need to be filled in, this contains the essential offer information for your listings. Also, your Bol.com reviews will be saved when you remove the old product listings from your Bol.com account. Your reviews will re-appear when the products are live again via Channable
Step 4: Send your product listings to Bol.com
Almost there, your product listings are ready to be sent. If you have not activated your project, go to Setup > Project settings and click 'activate project'. Then, go back to the APIs overview and go to "Your Bol API Name" > Settings where you activate the API by selecting "Activate API". After activating your API, navigate back to APIs overview and click on the blue "Run now" button to send your product listings to Bol.com.
Step 5: Check your product listings for errors
If you have sent your product listings to Bol.com go to the Result tab of your Bol API. Click on 'Errors'. Now you can see which product listings have errors and are not placed. If you have errors, try to solve them by adding more rules or adjusting the information in the Build and Attributes steps (see Step 2). Run the Bol API again to check if the error is solved.
"Weak product information" for unknown EANs
If you send products to Bol for which the EAN code is unknown in their database, it is possible that the products show as 'Successful' in Channable but have the message "Weak product information" in your Bol seller account. This means that not all mandatory information for these products has been sent to Bol yet. To solve this error read our support article on how to add unknown EAN codes to Bol.com.
IMPORTANT: If you plan on listing products that are classified as hazardous substances, then you must ensure these comply with EU CLP (Classification, Labelling and Packaging) regulation. It is therefore compulsory to fill in product characteristics for 'signal word', 'hazard statements' and 'precautionary statement'. You can fill in this information in the attribute builder of your API by looking for these Dutch words: 'Signaalwoord', 'Gevarenaanduidingen', 'Voorzorgsaanduiding'.
You can view these products through your seller account by going to 'My Items' and then selecting the 'Weak (online)' option in the 'Product information' filter. This is where you will find the articles for which the hazard information is still missing.