Note: This article provides you some information about how to troubleshoot your Amazon parent-variant setup. If you want to know how to setup the parent-variant APIs in order to get dropdown windows in Amazon, follow the steps in our support article.
1) How to troubleshoot your setup
Check the error messages in your variant API, these should give hints in what's causing variants to not be created as intended. For example, a common error is error 8016:
'The product data provided was insufficient for creating a variation (parent/child) relationship for ....... Ensure that the parent and child share the same variation theme and that there is a submission for variation theme attributes (e.g. size and color for size_color variation theme).
This error indicates that either the size or the color field values are missing and therefore there cannot be a parent/variant relation created.

An additional hint is to create a check rule at the end of both the parent and variant API to check what the result is of all the applied rules: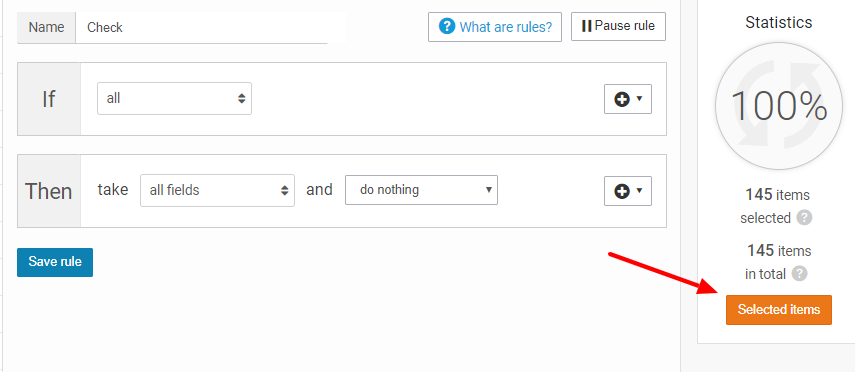 When you click 'selected items' you will get an overview of the result of the applied rules. Search for the 'item_group_ID' of the product in this check rule. In the parent API there should be one product and one product only, this is the parent product and should always have:
The stock set to 0;
The same category as the corresponding child products;
The same parent id as the corresponding child products;
The 'item_group_ID' in the following style '12345-parent';
No red fields or values in the attribute builder;
An appropriate variation theme in the attribute builder.
The variant API should at least have:
A variation theme;
Two child products for the corresponding parent;
The same categories for your child as for your parent products;
Excluded the parent products;
No red fields or values in the attribute builder;
The field(s) corresponding to the variation theme have been filled out (e.g. when using a size variation theme: size field is not empty, has non-static values, and is filled out in the attribute builder).
2) When to contact Channable support
You have followed all the steps described in the setup article and this troubleshooter article, but the variant structure is still not working? Please note that Amazon needs at least a few hours after the feed has been exported to process the changes that have been made. Still not working? Contact us, and we will help you pinpoint what is going on.