Important: If you start using ad customizers in your existing Ad templates, we will pause the old ads using the regular fields and create new ads in Ads that use the Ad Customizers.
What are ad customizers?
If you're using a field that changes a lot (e.g. price or stock) in your ad templates, a new ad gets created every time this field changes. Of course, the price and stock of your products often change a lot, and you don't want new ads that have no statistics to be created in your Ads every time this happens.
To avoid this issue you can use "ad customizers". With ad customizers, the value of the chosen field can change every day, without a new ad being created.
Note: You can customize any part of your ad text, except for the URL.
How do I use ad customizers in Channable?
Important: You will need to have at least one static ad in your campaign; one ad that does not make use of ad customizers.
Adding an ad customizer to your ad templates is similar to adding any other value. In the Ad groups step of your Ads connection in Channable, go to the "Ad templates" tab > click on ''New Responsive ad template'' and click on ''Add ad customizer'' in the Headlines or Descriptions (see image below).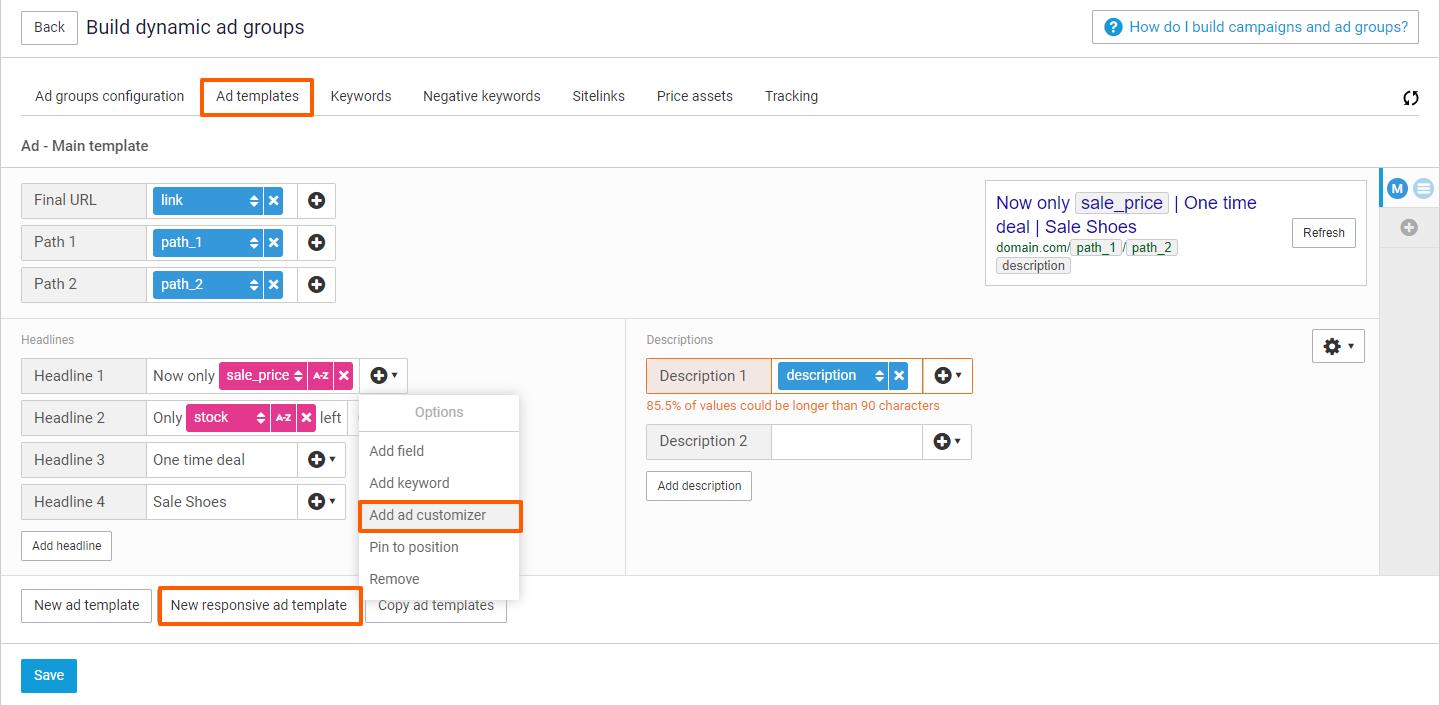 By clicking the plus icon in your Responsive ad template you get the option of adding different types of fields: regular fields (blue), keyword insertion fields (orange), and ad customizer fields (pink). By clicking "Add ad customizer" a pink ad customizer field is added, in which you can select one of your product fields that you want to use as an ad customizer. If the ad customizer option is not available for you, please contact us to enable the feature for you.
Important I: Fields with ad customizers do not count toward the minimum requirements in Google Ads, which is a minimum of 3 headlines, and a minimum of 2 descriptions. This means that you always need to have at least 3 headlines and 2 descriptions without ad customizers.
Important II: Two options "ABC" and "123" are available for the ad customizer. Use "123" if you want to make sure all the values of the fields are integer numbers (whole numbers, no decimals). If not, you will get an error. Use "ABC" if the format of the value does not matter (letters, numbers, etc.)
Important III:
Ad customizers are not taken into account when checking the length of a field. So it is possible to get an error related to the length even though the tool did not show this in the ad template section. So be sure to keep this length in mind when using Ad Customizers!
So, what happens next (in Google Ads)?
When an Ads connection with ad customizers in Channable exports to Google Ads, we create a file containing all the values your products have for the Ad Customizers. This file is uploaded to Google Ads and overwritten with a new file on every run. This file will appear in your Ads account under "Tools" > "Business data" (see image below).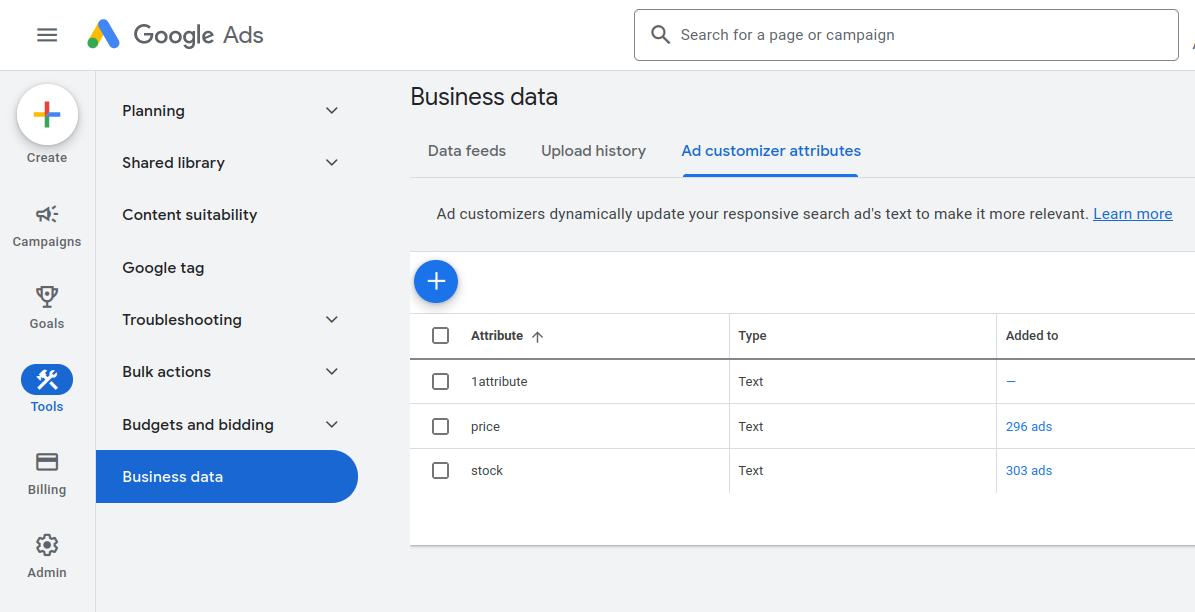 The values show when you try to edit an ad, here it's "8.99" for example: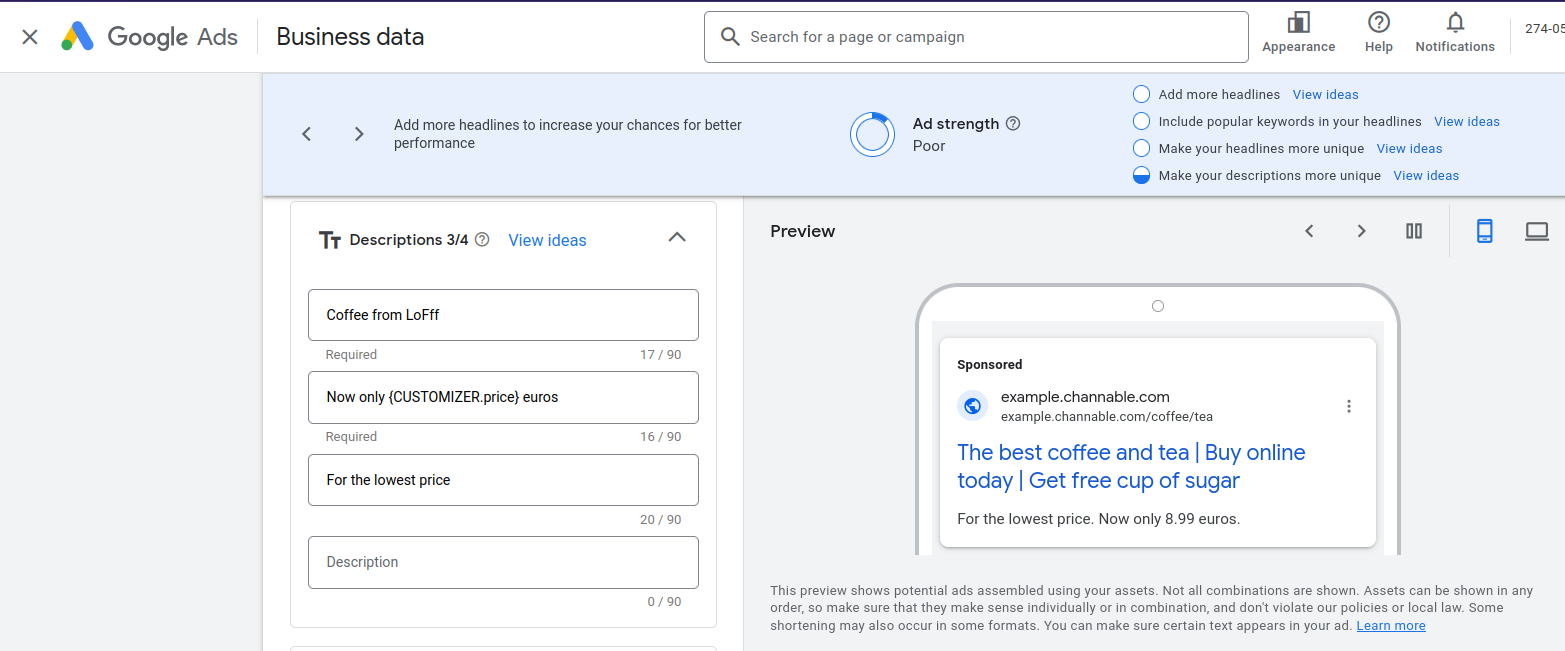 Note that if a field is empty, the field will also turn out empty in your ad on Ads. You can use the rules to exclude products for which certain fields are empty.
Checking out the result
By clicking on 'Campaigns' and going to 'Ads', you can find a preview of the ad with the ad customizer tags.
Important: Google Ads will not show values for Ad Customizers in the preview.