The creation of Performance Max Campaigns based on GMC feeds is now generally available on our platform. In addition, we will start migrating your smart shopping campaigns automatically to Performance Max campaigns.
How will I know if my smart shopping campaigns have been migrated?
We will change the tag of your generators, which indicates the campaign type, from "Smart" to "PMax". This means the migration is finalized and your Smart Shopping Campaigns run as PMax Campaigns.

What happens to my existing Smart Shopping campaigns?
In the following weeks, Channable will migrate all your current Smart Shopping campaigns to Performance Max campaigns. The creation of new Smart Shopping generators is not possible anymore, but you are still able to use your existing Smart Shopping campaigns until they get migrated.
Can I opt-out of this migration?
It is not possible to opt-out of the migration, because Google is auto-migrating all Smart Shopping campaigns in Google Ads. Channable does the migration for you to make sure no information is lost and the integration with Google Ads runs smoothly. We work closely with Google to ensure a smooth transition.
How does Channable's Performance Max generator work?
Our current Performance Max generator enables you to build PMAX Campaigns based on a GMC feed, which helps you drive online sales and offers the same functionalities as our Smart Shopping Campaign generator.
You can simply add a new dynamic shopping ads generator and choose "Performance Max" as the campaign type in the settings. All other steps remain exactly the same as a smart shopping campaign setup.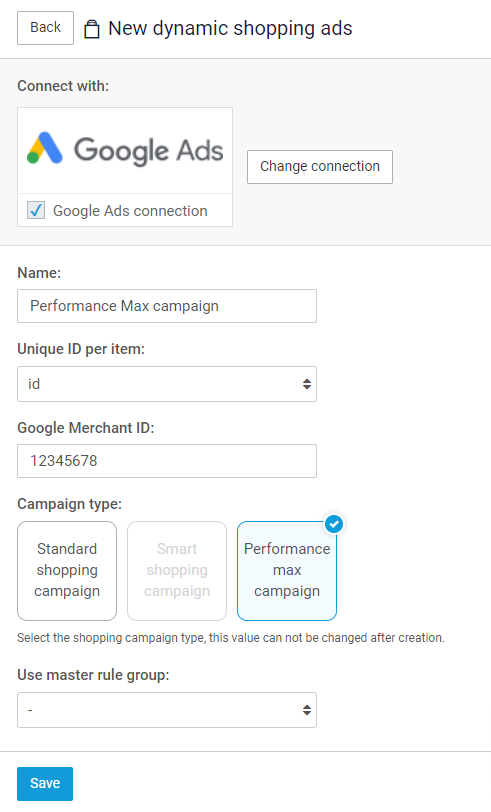 If you need further assistance or have any remaining questions please contact our support team.